How do you spell out cultural suicide in a soundbite?
And the lords and potentates of multiculturalism tell you to look the other way, nothing to see here, and if you do, you're a racist bigot.
H/T: Fjordman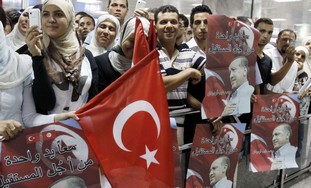 Turks in Germany are a Time Bomb
"The Turks in Germany are a time bomb, at least the majority of them". This is the statement with which Peter Cohen, an American visiting professor at Munich University, concludes his recent study in Germany.
Three million Turks live already in Germany already, while 2.5 million of them have German nationality, and the majority of them are conservative Muslims.
Are they integrated in the German society? Not really.
The majority of them speak broken German, especially the elderly.
"They don't want to integrate in the German society," says Hartmut, who doesn't want to be identified for fear of reprisals by violent Turks. "They even hate to be called 'migrants'. They feel very Turkish. They happen to be in Germany as the elderly generation in the 1960s had been recruited to work in the car and coal industries. Now, culturally the majority of Turks, even the young, here in Germany feel very Turkish. " Adds Hartmut, who is a social scientist at a German university.
Professor Cohen subscribes to what Hartmut says about Turkish migration, "In the USA, for instance, migrants usually integrate in the American society, latest when the second generation is there. My survey indicate that the majority of Turks insist on keeping their Turkish identity and their cultural heritage. They feel at home in the Turkish culture."