Just like the Norwegian government caught funding Palestinian terrorist groups.
H/T: Scottish Infidel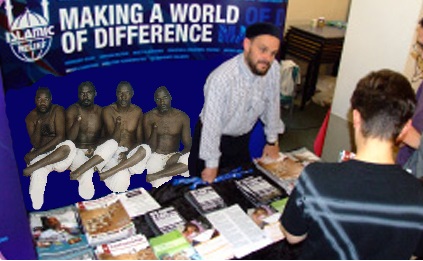 Scottish Government Funds Pro-Terror Group
by Samuel Westrop
March 26, 2013 at 5:00 am
Although the Scottish government may be convinced it is engaging with the Muslim community, in truth it is funding Islamist groups with extremist agendas and ties to terrorism.
The Daily Express revealed last week that Islamic Relief Worldwide, a British charity accused of links to terrorism, was presented with £398,000 of the taxpayers' money by the Scottish Government last year, as part of its £9 million International Development Fund.
The funding was announced by Scottish politician Humza Yousaf, formerly the Media spokesperson for Islamic Relief Worldwide, and currently a Scottish National Party Member of the Scottish Parliament and Minister for External Affairs and International Development. This grant comes in addition to the European Union's grant of €22 million provided to Islamic Relief Worldwide between 2007 and 2011.
In 1999, Islamic Relief Worldwide received a payment of $50,000 from a Canadian charity that the US Department of the Treasury identified as a "Bin Laden front". In 2005, the Russian Government accused Islamic Relief of supporting terrorism in Chechnya.
In 2006, the Israeli Government designated Islamic Relief a "terrorist front." After three weeks' detention in Israel, the head of Islamic Relief's operations in Gaza, Ayaz Ali, was deported by Israeli authorities after being accused of funneling money to banned organizations and storing images of swastikas and Osama bin Laden on his computer.
In November 2012, the Swiss Bank UBS closed the account of, and blocked all donations to, Islamic Relief due to "counter-terror concerns."
A considerable number of Islamic Relief officials are also connected to extremist groups: