Islamic concept of tolerance.
When they are not tearing down churches in the laughably labeled "moderate" Muslim state of Indonesia, they are demanding non-observance of Christian high holy days.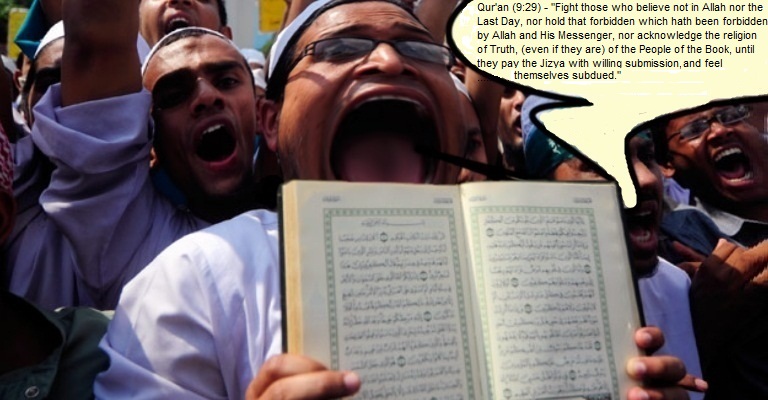 West Jakarta: Islamist threats against Holy Week celebrations
by Mathias Hariyadi
Extremist groups have made threats against the priest and the faithful of a Catholic church in Kepa Duri. Palm Sunday Mass took place as scheduled but fears remain about Easter services. Extremist ire was triggered by the fact that the church is located inside a school.
Jakarta (AsiaNews) – This Holy Week will be full of tensions for Catholics in West Jakarta, who put up with repeated threats over the weekend from hundreds of Islamic extremists, who tried to block access to Christ the Peace Catholic Church in Kepa Duri, an administrative area west of the Indonesian capital.
Last Saturday, on the eve of Palm Sunday, Islamist groups (pictured) made serious threats against Catholics in Kepa Duri, telling the priest and the faithful to cancel scheduled weekend celebrations.
Their hatred was triggered by the fact that the place of worship is located inside a school, which, in their opinion, "should not be used" for religious services.
The extremists tried to attack the site when the priest and some members of the congregation started a prayer meeting. As a result, Fr Matthew Widyolestari turned to the Interfaith Forum in Jakarta, which met with the leaders of the extremist protest.
More here. Via Zip