Police malfeasance at its worst.
H/T: Scottish Infidel
Rochdale grooming case 'failed to use witness evidence'
By Jane DeithFile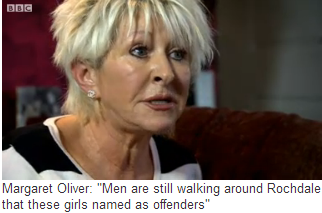 Men alleged to be part of a child-grooming ring in Rochdale were never brought to justice because the evidence of teenage victims was not pursued, according a former police officer.
Last May nine members of the ring were jailed for a total of 77 years.
Now a former officer has told the BBC more abusers "would be off the streets" if their girls' evidence had been used.
The Crown Prosecution Service said it focused its case on victims who would give the best evidence in court.
Tessa (not her real name) was 14 years old when men started grooming her for sex – luring her with free takeaway food and alcohol.
During a failed investigation into the abuse in 2008, she was arrested on suspicion of introducing friends to help the ring widen its network of girls – a claim she denies.
The investigation was eventually dropped and no charges were brought against her.