As expected. It's all Islam all of the time.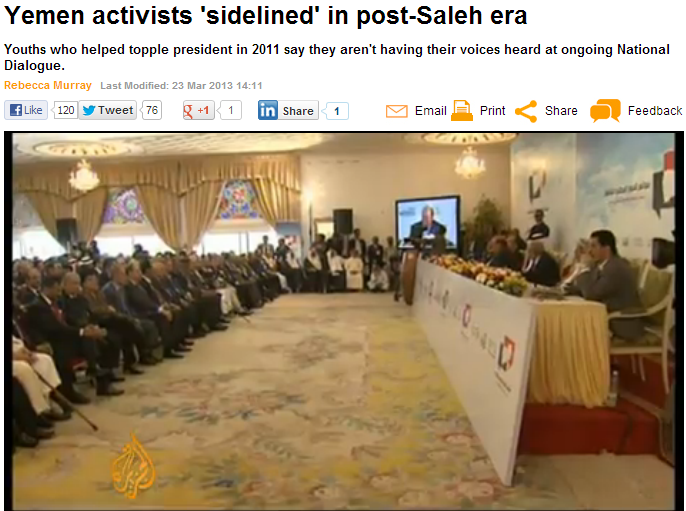 Sanaa, Yemen – As Yemen continues its six-month-long National Dialogue – a conference intended to unify the country after the 2011 rebellion – some independent youth and women say their voices are being marginalised by the established order.
Born out an initiative from the Gulf Cooperation Council (GCC) – which included a controversial immunity deal for former president Ali Abdullah Saleh and a subsequent one-man presidential election won by Abd-Rabbu Mansour Hadi – the National Dialogue process, postponed since last November, is meant to culminate in a new constitution and elections in February 2014.
But some youth and women who played a key role in toppling Saleh are concerned their voices won't be heard when delegates meet at a luxury hotel in Yemen's capital.
"They [the people] have basic needs [that aren't being met]," Nouria Nagi, the director of YERO, a local NGO, told Al Jazeera. "The school and health system is terrible. We had a seven-year-old child faint because he has no food to eat. So all this money wasted on the Dialogue at the Movenpick Hotel upsets me."