This is the mind of the Islamic world, no matter what overtures are given, it's never enough, they will always find a pretext to demand for more. Just look at the Arabs response to anything Israel has done to forward the "peace process", its never good enough, there will always be something yet to be done in order for them to be finally "pleased."
NOTE: Turning into a real peachy situation. Erdogan will be allowed by Obummer to spin it any which way he wants, and Netanyahu is left dangling…..like a pinata ….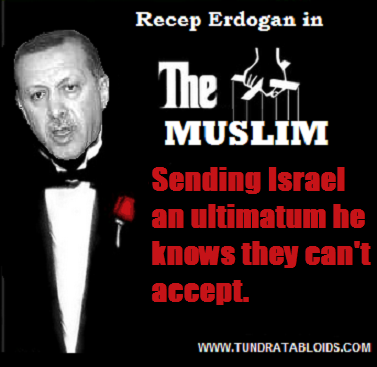 Erdogan: Normalization depends on Israel's actions
Normalization of diplomatic ties between Israel and Turkey will not occur until Israel meets its commitments to ease blockade, compensate victims, Turkish PM stresses
Turkish Prime Minister Recep Tayyip Erdogan said Sunday that his country's ties with Israel will only normalize if Israel follows through on its promises both to ease the Gaza blockade and to compensate Turkey for the deaths of nine Turkish citizens in the raid on the Mavi Marmara.
Erdogan spoke in an assembly at the city of Eskisehir, stressing that "Only when Israel carries out its commitments, will normalization occur."
Prime Minister Benjamin Netanyahu apologized on Friday for the deaths of nine Turkish citizens in the IDF raid on the Gaza-bound Marmara ship.
As part of the US-brokered settlement, Israel agreed to transfer funds to a humanitarian organization that would compensate the victims' families.
IDF Chief of Staff Lieutenant General Benny Gantz referred Sunday to Netanyahu's apology, saying that "It was good that the prime minister took action to promote ties with Turkey; it will have a positive effect on our security and strategic interests."
Nevertheless, Gantz stressed that "The actions of the soldiers in regards to the Marmara were professional and ethical. Any other army would have ended the incident with dozens of deaths. I have complete faith in the commanders."