Politicians are always busy setting precedents.
I have no problem with helping allies, but once politicians circumvent laws on the books, what's to stop them from doing it whenever the choose? Yes, it's a rhetorical question.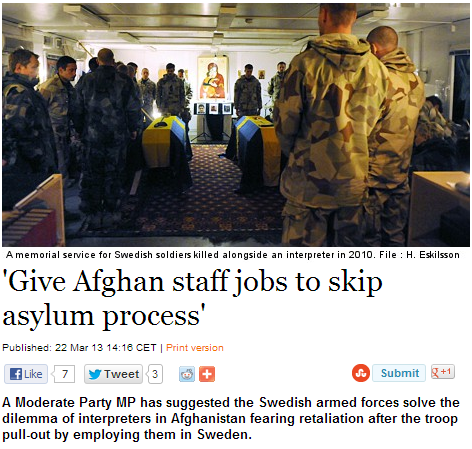 "A solution for the armed forces if they want to take responsibility for their translators is to give them work in Sweden," parliamentarian Gunnar Axén, who sits on the social insurance committee, said on Friday.
"Then they'll get residency permit as labour migrants."
After four years in the country, the residency permit would become permanent.
Axén underlined that there are several job titles within the armed forces that do not require security clearances of the would-be employees.
The commander-in-chief, Sverker Göranson, had previously asked that the Swedish government find a solution to welcome the Afghan interpreters in Sweden.
Many of the local staff fear they will face a backlash when the Swedish troops leave and several have testified in Swedish media to already being threatened for working for foreign forces.