The Left love a riot!
Standing up for sharia and totalitarianism, the Left sure knows how to throw a great time, don't they?
Stjernfeldt Jammeh is one of the few local Social Democrats to have openly criticized Reepalu's statements about Jews and anti-Semitism in Malmö, which have received international attention.

"His statements have created mistrust," she told newspaper Dagens Nyheter (DN) in March 2012.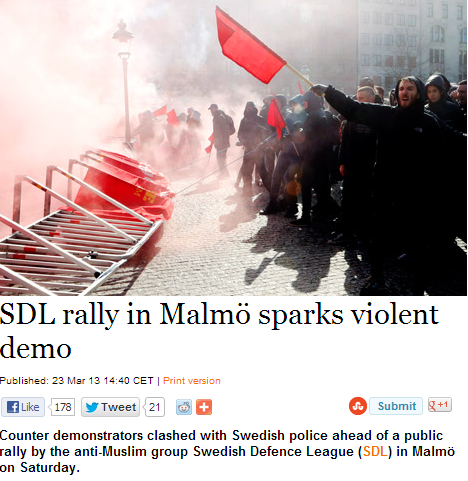 "There were angry squirmishes after the anti-racists marched from Möllevångstorget square to the Stortorget square around noon, a lot of people seemed ready for a fight," said The Local's Patrick Reilly from the scene.
"They were pushing over barricades, setting off flares and some threw bottles, and went up against the police," he said.
"There was also the odd snowball tossed at police."
SEE ALSO: Pictures from the Malmö counter-SDL rally
An officer on the ground said there were "in excess" of 100 police present, while our reporter numbered the actual SDL members at only about 20.
"The SDL were waving a Swedish flag on their way to the square and gave the counter-demonstrators the finger," Reilly said.
The Local's reporter numbered the counter-demonstrators to just shy of 600. Some demonstrators used a Eurovision awning on the square to beat out a rhythm, which alongside the chants "No racist on our streets" drowned out most of the words from the SDL speakers.
One banner hoisted above the march read "No Breivik Soldiers on our streets," according to the TT news agency.
h/t: Aeneas
NOTE: Snaphanen has more: