And other minorities.
Andy sends the following piece that's a must read from beginning to end, and then reread once or twice again. Simply stunning material.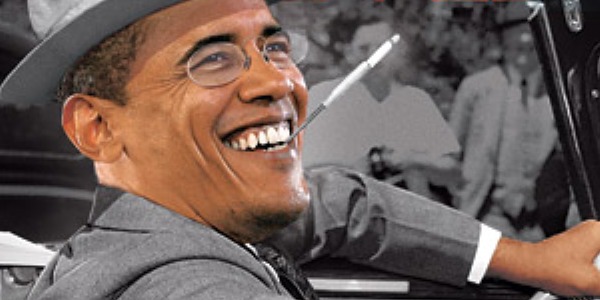 Something worth noting here. Whether it be about slavery, post-Civil War segregation, the imprisonment of US Japanese-American civilians during WW II, the throwing out of Black Americans from federal public service during the Wilson years, or the anti-civil rights filibustering by their senators etc., it's always defined simply as "US history". Talk of the party involved is mysteriously always lacking.
Truth be told, many negative aspects of US history, is in fact, part and parcel the history of the Democrat Party. That the 'leadership' of the modern day Republican party (comprised of RINO's) are trying to imitate the Democrats, with only the Tea Party standing in their way, should cause every liberty minded person a great deal of worry, especially these traditionally persecuted minorities.
Now on to Andy's piece.
Professor Glick warns, appropriately, about the pitfalls of American Jews' blindly misguided reverence for Democratic Presidential "saviors," such as Franklin Roosevelt, or Barack Obama,  "whom Jews revered then [Roosevelt] as much as they lionize President Barack Obama now ," despite their latent (or blatant) antisemitism, and the actions, or inactions, such attitudes may engender.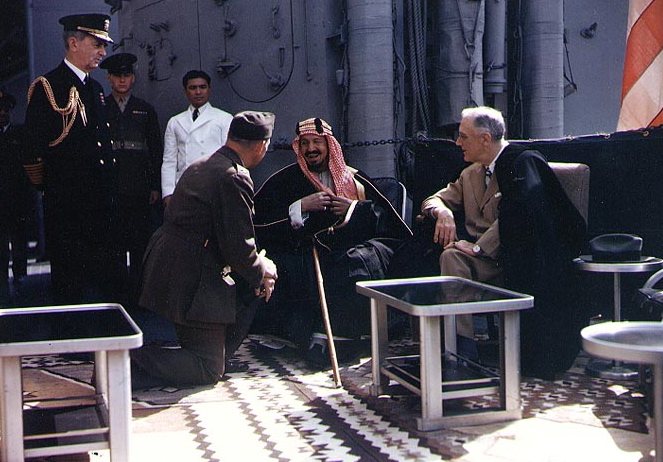 Roosevelt, Ibn Saud, and American Jews
March 22nd, 2013 by Andrew Bostom
This morning at AT, Professor Emeritus Edward Bernard Glick described his frank 1958 discussion with Eleanor Roosevelt regarding her husband, President Franklin Delano Roosevelt's decision not to bomb the railway tracks connecting to the Nazi extermination camps for European Jews. Professor Glick also alludes to prevalent antisemitic attitudes in the State Department, and perhaps President Roosevelt, himself, whom he quotes as having stated to a prominent Jewish Congressman, "The Jews in America should know that they are tolerated here, but not more than that."
Roosevelt's statement was in fact a crude retrogression from the attitudes expressed by America's first President, George Washington. Following a visit to Newport, RI in August, 1790, and his warm reception by the local Jewish community, represented in a letter by Moses Seixas, George Washington wrote a moving reply to Touro's congregation. Our first President rejected the idea of mere "tolerance" of Jews, embracing them as full, equal citizens of the nascent American nation, with complete freedom of conscience, and the guarantee of their personal security. Washington stated,
The Citizens of the United States of America have a right to applaud themselves for having given to mankind examples of an enlarged and liberal policy: a policy worthy of imitation. All possess alike liberty of conscience and immunities of citizenship. It is now no more that toleration is spoken of, as if it was by the indulgence of one class of people, that another enjoyed the exercise of their inherent national gifts. For happily the Government of the United States, which gives to bigotry no sanction, to persecution no assistance requires only that they who live under its protection should demean themselves as good citizens, in giving it on all occasions their effectual support. [emphasis added]

It would be inconsistent with the frankness of my character not to avow that I am pleased with your favorable opinion of my Administration, and fervent wishes for my felicity. May the children of the Stock of Abraham, who dwell in this land, continue to merit and enjoy the good will of the other Inhabitants; while every one shall sit in safety under his own vine and figtree, and there shall be none to make him afraid. May the father of all mercies scatter light and not darkness in our paths, and make us all in our several vocations useful here, and in his own due time and way everlastingly happy.
Roosevelt made another particularly maleficent, if bizarre, statement revealing his visceral antisemitism during the seminal February, 1945 Yalta Conference between the American President, Soviet dictator Joseph Stalin, and British Prime Minister Winston Churchill. The President was scheduled to meet with Arabia's despot King Ibn Saud immediately after the Conference. Alluding to this upcoming meeting with the Arabian despot, Stalin asked Roosevelt what concessions the President might make to Ibn Saud regarding Middle Eastern issues. As per two independent sources of archival documentary evidence (hat tip, Diana West), i.e., the minutes preserved in the Roosevelt Library in Hyde Park, New York, and the papers of then Secretary of State Edward R. Stettinius (the latter reproduced in the recent M. Stanton Evans and Herbert Romerstein analysis, "Stalin's Secret Agents—The Subversion of Roosevelt's Government," p. 35),