What is Obama doing in Israel? Just what exactly is this hostile-to-Israel shmuck of president doing there? To quote Saul Alinksy?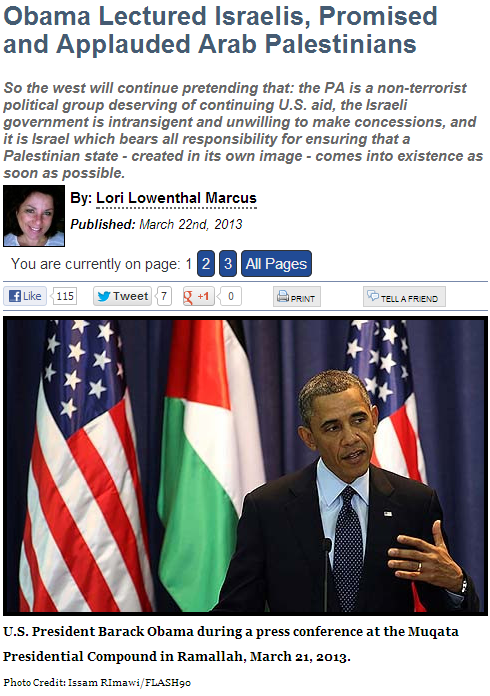 U.S. President Barack Obama gave two speeches on Thursday, March 21, one to Arab Palestinians in a joint press conference with acting head of the Palestinian Authority Mahmoud Abbas in Ramallah, and the other to Israelis at the Jerusalem Convention Center.
His talks were ostensibly about the state of relations between the different parties, but everyone knew that the animating impulse was to kickstart the "Middle East Peace Process." Everyone who watched the speeches or read the transcripts, are now desperately looking at the tea leaves to see what just happened.
The substance of Obama's two speeches, the venues in which they were given, the words chosen, the words avoided, taken all together paint a vivid picture of this president and his beliefs about the region.
One speech he gave in Ramallah, the acknowledged seat of government of the Palestinian Authority, where he gave a joint press conference with Mahmoud Abbas, the acting leader of the PA.  The other he gave in Jerusalem, not at the seat of Israel's government, and not directed to Israel's elected leaders.
At the Jerusalem speech the U.S. president spoke directly to the citizenry of Israel, mostly university students – minus those, such as students at a newly credentialed Israeli university located in Ariel – which is situated beyond the "green line" and, apparently, for Obama is beyond the Pale, ironic given the large number of Arabs who are students at that university.