Preaching hate is an Islamic right.
These are the speakers who are the problem, not those of us who expose them and the hateful ideology that they represent, basic Islam 101. Those are the facts, those who say otherwise either are being diingenuous or believe in the myth of 'moderate' Islam.
Lars Aslan Rasmussen, a Copenhagen councillor says that Viomis decision to invite Yasin is a 'scandal'.

"It's ridiculous. He is a danger because among other things he is a proponent for the death penalty for homosexuals and we already have a major problem with hate crimes," Aslan says, although accepting that Yasin is to speak of solidarity within Islam and is not expected to touch on controversial subjects.

"I really don't mind what he is to talk about. The issue is that he is used as a role model for some young people who are already marginalised," Aslan adds.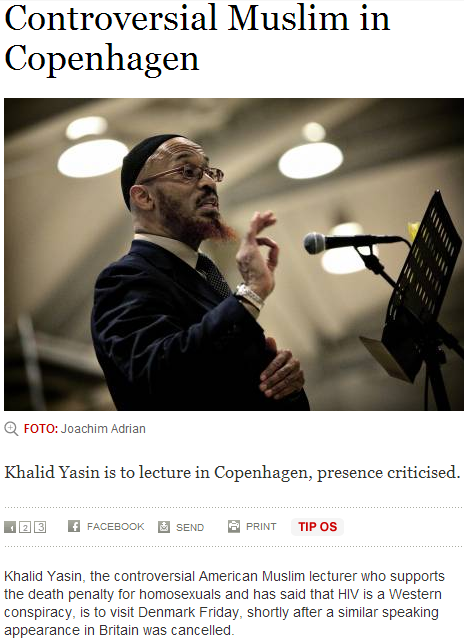 Yasin has been invited to lecture by the Viden om Islam ([VIOMIS] Ed: Knowledge about Islam) organisation at the Metropol in Nørrebro. He is to speak on the subject of "We Are 1", on solidarity and community in Islam, as part of a charity event in favour of Syria.
VIOMIS is prepared to provide information about the event, but is not prepared to discuss Yasin's person.
"We have chosen not to comment on him as a person. That is what we have decided and chosen not to do," VIOMIS Spokesman Alexander Chebil tells politiken.dk.
It is the second time that Yasin, who is also known as Abu Muhammad, has visited Denmark. He spoke at an event in Nørrebrohallen in 2010, urging young people to leave gang environments and suggesting how to better integrate in Danish society.