Nice turnaround of events.
Now, if they (the political cultural elite) can cease from demonizing the rest of us who are calling for the exact same in society in general, then we would be that much closer in reigning in Islamic fundamentalism. Sadly, the mindset that they (Muslim fundamentalists) represent is more widespread than what the university and Norwegian society as a whole think.
H/T: Always Watching.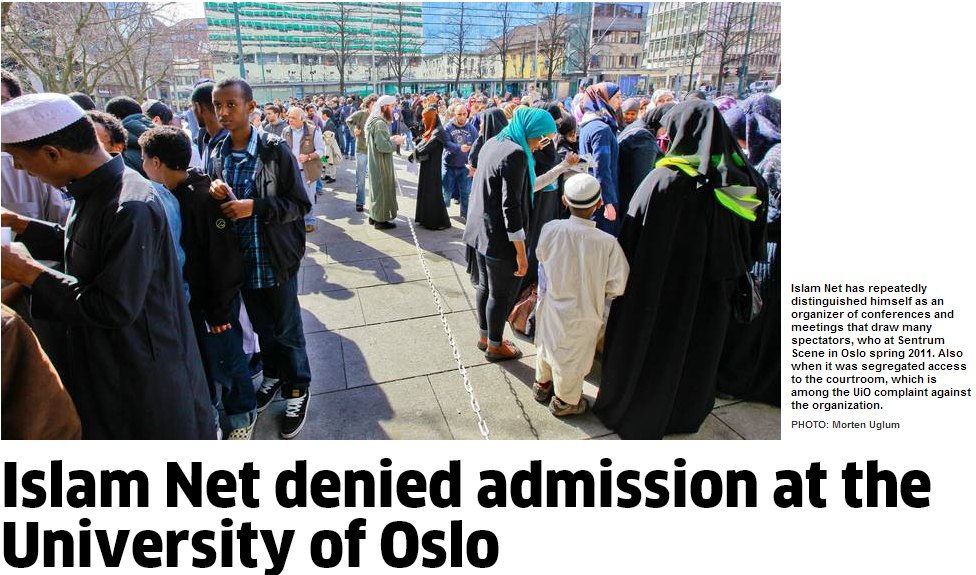 Osloby.no: The Muslim organization Islam Net has been denied its application to become a student organization at the University of Oslo. University justifies the rejection that Islam Net is sexist.
Islam Net searched 26 last November to join fraternity at the University. The University has made a decision.
– The application violates the university's values, says Rector Ole Petter Ottersen of the student newspaper Universitas .
Neither Islam Net's management or application contact, Lionel Giriteka, responded to repeated requests from Universitas.
– Gender Discrimination
In the rejection letter to Islam Net, it emerged that the University believes the organization is sexist:
"It is undoubtedly considered that Islam Net's gender-segregated practices and attitudes of others religious beliefs and sexual orientation, are contrary to the UiO service declaration to ensure a safe and inclusive learning environment."
University refers to among other things a meeting that Islam Net arranged on the premises of University of Oslo and Akershus 7 November. Where the organization demanded that women and men were referred by hired guards to use different inputs.
Calling them preachers
Tor Bach, observing extreme environments for website wasp, has previously described Islam Net as an extremist cult-like movement.
– Islam Net uses preachers who believe that Jews are the offspring of pigs and dogs. They have an extremely pious and strict interpretation of Islam, he said.