If they are Muslims who believe in all the fundamentals of Islam, they will inevitably be Muslim fundamentalists, therefore, extremists in the modern sense of the word. There is no getting around it.
NOTE: I have talked with other apostates from Islam, one even a former sharia scholar who says the exact same thing.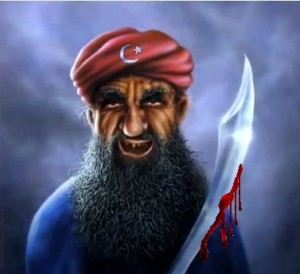 There is no such thing as a 'moderate Muslim'. Every Muslim – especially the males – is fundamentally a JIHADI.
A Shocking Interview with I. Q. Rassooli, Islam Expert
by CLARE M. LOPEZ March 21, 2013
The Iraqi-born native Arabic-speaker who goes by the name "I. Q. Rassooli" has lived in Europe since his university days studying engineering in England. His mind is an inquiring and a questioning one, characteristics not much appreciated among the conformist Muslim community of his origins. And so he stayed in the West and, for the next 23 years, undertook "as thorough a study of Islam as humanly possible," as he says.
His research and analysis about Muhammad, the Qur'an, Hadiths, Shariah, Arab and Islamic history, and a comparative, contrasting study of those with the Hebrew Bible, the New Testament, Zoroastrian (Persian) beliefs, pagan Arab religions and more culminated in a thesis that no publisher would print. Instead, al-Rassooli created a website, www.inthenameofallah.org that now contains over 780 chapters. He also put up over 280 audio/video chapters on YouTube that collectively received over 1.59 million visitors and 3,976 subscribers in the two years before YouTube removed took them down. Luckily, al-Rassooli had them all backed up on his blog site at www.the-koran.blogspot.com and he then put them back up on YouTube under another name. His website is at www.alrassooli.com
Al-Rassooli also founded a movement called the Ummat al Kuffar (Nation of Infidels) that he hopes will develop and grow, given that some 80% of all humanity are not Muslims but rather the object of Islamic supremacist conquest intentions. He says his mission is the exposure of the facts and reality about Islam, based on the primary Arabic language sources themselves.
Family Security Matters Contributing Writer Clare Lopez recently was granted the opportunity to interview I.Q. al-Rassooli about Islam. Here are his replies to her questions.
1. Is there such a thing as "moderate Islam" ?
It is very difficult for decent, well-meaning Americans and Europeans – who truly believe the propaganda of Muslims that Islam is only a religion and as such must have redeeming characteristics – to be told by myself and others who know Islam from the inside that the truth is quite different.
Unfortunately, most Americans – as well as most of humanity – have been misled because Muhammadan Islam is not merely a religion but a cult belief system, the cult of Muhammad.
Believing Muslims must follow Sharia. It is obligatory for all Muslims, everywhere, for all time. Sharia – based upon Muhammad's Quran and Sunna (Muhammad's acts, deeds, thoughts, behavior, etc. as recorded in the hadiths and Sira) – explicitly commands deceit, hatred, misogyny, racism, and warmongering against non-Muslims. There is no other "religion" that does this and this is why I say that Islam cannot be considered merely a "religion" like any other – and it most certainly cannot be called "moderate".
For this is the command from Allah to all Muslims, as recorded in the Qur'an:
Al Tauba 9:29 "Fight those who believe not in Allah nor the Last Day nor hold that forbidden which hath been forbidden by Allah and his apostle [Muhammad] nor acknowledge the religion of truth [ISLAM] (even if they are) of the People of the Book [Christians & Jews] until they pay the Jizya [onerous Tax for not being a Muslim] with willing submission and feel themselves humiliated"
Muhammad 47:4 "Therefore when ye meet the Unbelievers smite at their necks; at length when ye have thoroughly subdued them bind a bond firmly (on them): thereafter (is the time for) either generosity or ransom"
2. How about "moderate Muslims" ?
There is no such thing as a 'moderate Muslim'. Every Muslim – especially the males – is fundamentally a JIHADI. That is, one who will fight Unbelievers (currently 80% of humanity including ALL Christians, Buddhists, Hindus, Jews, Atheists, Agnostics, etc.) – any and all those who do not follow Muhammad.