Predictable.
Ironically, 'hitto' in Finnish means, 'aw…bugger'.
former Syrian National Council head Burhan Ghalioun and prominent dissidents Walid al Bunni and Kamal al-Labwani were among those who abstained from the vote.

Mr al-Labwani told The Independent that outnumbered liberals could do little to get their voices heard and said he planned to resign from the coalition.

"The government is controlled by the Muslim Brotherhood and the Qatar government," Mr al-Labwani said. "We will be against this government and will not give it legality. Democracy is from the land and from the people not from a council that is composed by the government of Qatar."
American Muslim Brotherhood Member is New Syrian Prime Minister
March 19, 2013 By Daniel Greenfield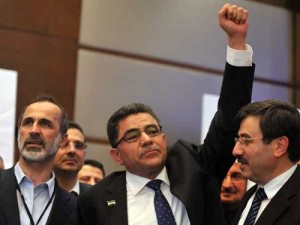 America and Europe have served as safe havens for a generation of Islamists looking to take over their own countries. Iranian Islamists like Khomeini hung out in Paris. Arab Islamists hung out in the United States.
If you loved Morsi, meet Ghassan Hitto, the choice of the rebels to be the Prime Minister of an imaginary government. Hitto was no doubt chosen for his American background and his ties to the Muslim Brotherhood.
Just last year Ghassan Hitto was an IT executive in Dallas whose focus was probably lines of code or how to deliver a project on time. But today he was giving a speech in Istanbul in which he insisted his new priority was to utilise "all conceivable means" to topple President Bashar al-Assad and provide desperately-needed aid to the beleaguered people of Syria.

He was voted in by 35 of the 49 coalition members who cast ballots, but another 15 members were not present – with several walking out in protest at Mr Hitto's perceived links to the Muslim Brotherhood and its backers in Qatar.