It's called being responsible.
I would rather call attention to the other main parties in Sweden who continue to turn the blind eye to the actions of their own party members and elected officials who champion the Islamic neo-Nazis like Hamas and Hezbollah and Fattah.

Just because these Islamic neo-Nazi parties reside outside of Sweden, though many of there members and supporters do, they think they can get off scott-free. Nope. The main Swedish parties have some major policy shifts in store before any them can be taken seriously either. The SD shows the way, the other parties across the aisle could learn from them.
NOTE: Carl Bildt, the present Foreign Minister of Sweden and leader of the "Moderate Party", is shown posing with Swedish Leftist radicals returning to Sweden from their voyage on the Mavi Marmara in 2010. The ship was filled with Turkish IHH jihadi terrorists on their way to help break a legal weapons blockade imposed upon Gaza by Israel, due to the terrorism of the regime ruling the enclave, Hamas. Bildt has yet to be condemned in Sweden for this show of solidarity with Hamas as an acting minister of government.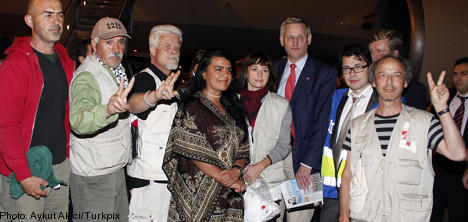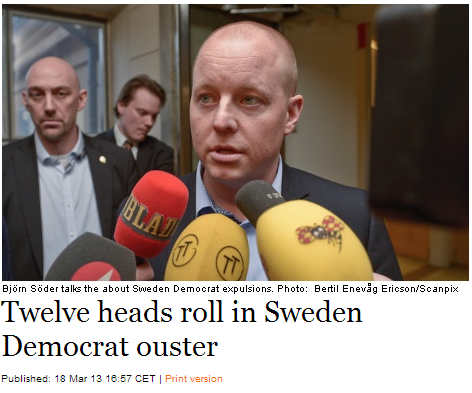 The Sweden Democrats on Monday announced they were kicking twelve members out of the party, including a prominent Gothenburg politician with strong ties to Sweden's neo-Nazi movement.
"I'm surprised that the party made such an unwise and unfounded decision," Patrik Ehn, who was forced out of the party following a 14-3 vote, told the TT news agency.
The announcement comes following an extra meeting of the party's governing board as part of an initiative launched in October by party leader Jimmie Åkesson to "clean up" the party's image.
"We have to put our foot down and state that enough is enough. We need a major clear out," Åkesson told the TT news agency at the time, explaining the party was launching a policy of "zero tolerance".
Following a day of closed-door meetings, the party revealed on Monday afternoon that twelve people had been asked to leave the party, including Ehn, a high-profile politician from Gothenburg who last week told the Expressen newspaper there was "not a chance" he would be dismissed.
But the Sweden Democrat leadership explained that Ehn, who according to the anti-racist magazine Expo was an active member of the neo-Nazi Nordic Nationalist Party (Nordiska rikspartiet) in the 1980s, remained too close to the neo-Nazi movement and its views.
"After careful consideration, the party's governing board has concluded that Patrik Ehn's ideological home isn't with the Sweden Democrats and that he therefore can't continue to be a member," the party said in a statement, adding that Ehn's efforts to abandon extremism lacked credibility.
"The dismissal is based on the governing board's collective assessment about Ehn's political background in Nazi and extremist organizations in combination with a long series of statements and incidents."