BUSTED: Minister for International Development (Greens) twice contributed to the gray economy in under the table payments for work at her residence. 
Will she resign? Nope, no shame, no moral outrage, she's a Lefty, and will get a slap on the wrist instead of the boot to her rear that she rightfully deserves.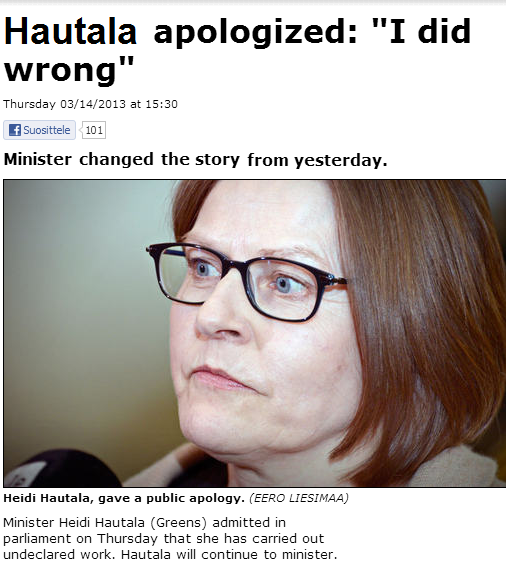 – I have apologized at a meeting of the Board of Directors that I have caused a credibility problem to the government's program on the informal economy.
Hautala says, she believed that the repairman did the work as a contractor and handled the responsibilities as an employer.
– Of course, I've done wrong, I didn't ask for a receipt.
Only yesterday, Hautala  assured the Iltalehti that the renovation of the price was so cheap, that she wouldn't have to pay pension contributions or taxes.
Phantom cleaner
Hautala also admitted she paid a cleaning woman under the table.
– She's a Chechen woman who received asylum in Finland, which I tried in many ways to help. She was at my house to clean up, and would certainly have had to pay pension contribution for it.
She says she paid the  cleaner's pension contributions afterwards.