First, from BadNewsFromTheNetherlands blog: 
NOS TV station has reported that about 100 Dutch Muslims are presently active as Jihadists in countries such as Afghanistan, Somalia and Syria. Most are in Syria and have joined the Al Nusra Movement which wants to establish an Islamic state once President Assad is driven out. This movement is considered a terrorist organization by the U.S. This makes the Netherlands one of the major European suppliers of fighting jihadists. Furthermore, this number is increasing rapidly. Not long ago, it was estimated at in the few tens. Terrorism experts are afraid that these people may radicalize even further when they return to the Netherlands.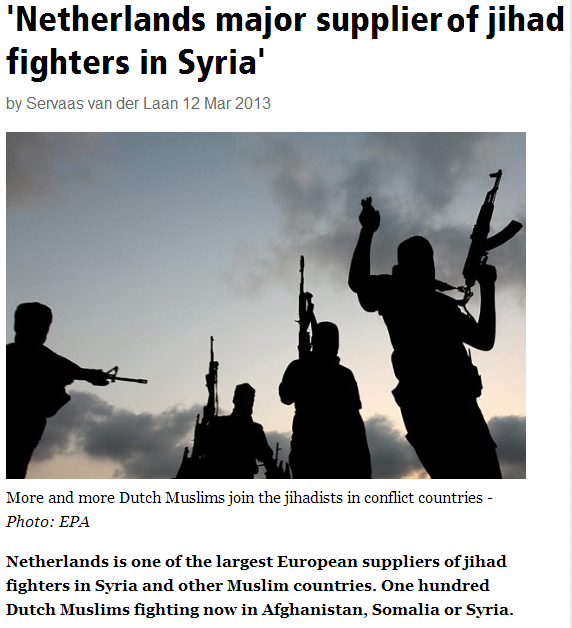 The NIS reports.
Most fighters have traveled to Syria and have been there connected with the extremist movement Al Nusra.
Islamic State
This terrorist organization aims to establish an Islamic state as President Bashar al-Assad is ousted. According to the NIS, the number of Dutch fighters rapidly. Recently it was still a few dozen.
Europe
From across Europe there have already traveled hundreds of Muslims to join the jihad. Last week two Danes were killed in fighting in Homs and Jabal al-Turkman.