Why isn't this piece of crap in an orange jump suit standing before a military tribunal in GITMO? 
Actually it's a rhetorical question, the reason why he's not sitting in GITMO is that this administration and the head of the subverted Justice Dept. has been keen on treating the jihad as a criminal offense, not as an act of war. Just wait, they'll try to make it a precedent to bring KSL to trial within the US, just wait and see.
NOTE: According to Islamic jurisprudence, jihad against the kafir is always justified, just being against your subjugation and forced conversion is reason enough.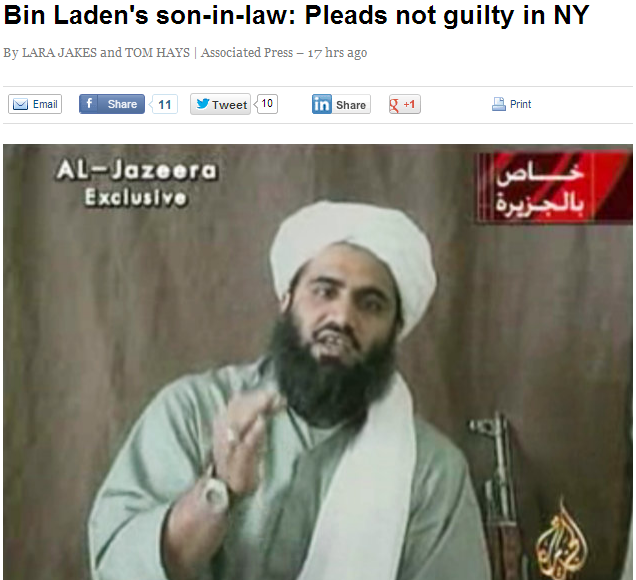 WASHINGTON (AP) — Sulaiman Abu Ghaith, the charismatic al-Qaida spokesman, fundraiser and son-in-law to Osama bin Laden, is likely to have a vast trove of knowledge about the terror network's central command but not much useful information about current threats or plots, intelligence officials and other experts say.
Abu Ghaith pleaded not guilty Friday to conspiring to kill Americans in propaganda videos that warned of further assaults against the United States as devastating as the Sept. 11, 2001, attacks on the World Trade Center and the Pentagon that killed nearly 3,000 people.
Believed to be more of a strategic player in bin Laden's inner circle than an operational plotter, Abu Ghaith would be the highest-ranking al-Qaida figure to stand trial on U.S. soil since 9/11. Intelligence officials say he may be able to shed new light on al-Qaida's inner workings — concerning al-Qaida's murky dealings in Iran over the past decade, for example — but probably will have few details about specific or imminent ongoing threats.