Teaching US government 101
His talk on the history of Black America being exclusively Republican, the constitution, the amendment system, division of powers and what a constitutional republic means in comparison to a democracy, is amazing to hear.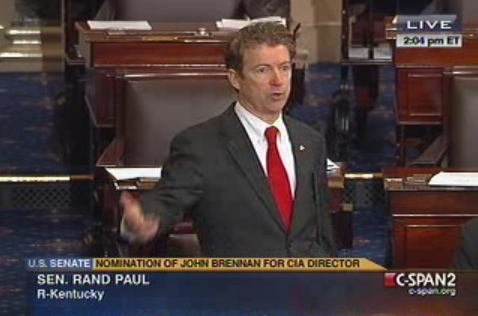 "I will speak until I can no longer speak," Paul said. "I will speak as long as it takes, until the alarm is sounded from coast to coast that our Constitution is important, that your rights to trial by jury are precious, that no American should be killed by a drone on American soil without first being charged with a crime, without first being found to be guilty by a court."
NOTE: Question: where are the rest of the Republican conservatives standing in the breach with him, giving him a rest as they take up the filibuster in his stead?
UPDATE: They're standing with him. Good showing.