No rioting seen or heard from Christian communities around the world.
It was innocent enough of a mistake, no harm done, the company hasn't made any re-call efforts though, just a promise to be more careful in the future. Personally, I don't think I would ever care to read toilet paper before or after using it.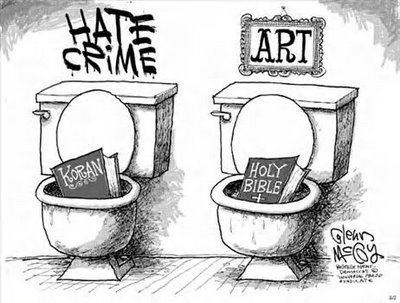 Finnish toilet paper maker flushes Bible quotes
YLE: Metsä Tissue said it was only trying to convey messages about love when it accidentally printed lines from the Gospel of Matthew and First Corinthians on toilet paper sold in Norway, Denmark and Sweden.
The company had used Facebook to crowdsource for inspirational quotes and said it realised the blunder after receiving angry feedback.
"People like to read small, happy messages while sitting on the toilet," Christina von Trampe, a spokeswoman for Metsä Tissue, which produces the Lambi brand, told Reuters.
But Norwegian church leaders were not amused.
"This is bad taste and show lack of respect,"  Laila Riksaasen Dahl, the Bishop of Tunsberg in Norway told Vaart Land, a publication focusing on religion issues. "Bible verses do not belong on a roll of toilet paper."
One of the texts quoted Jesus: "For where your treasure is, there your heart will be also."
"Our intention was to spread love and joy, not religious messages," explained von Trampe, who said the company would vet its WC messages more carefully in the future.