The OIC has not only the anti-Islamization movement in its cross hairs, but also the entire non-Muslim world. They represent the greatest tyranny ever set against the free world, and they have to be stopped in their tracks. Wake up politicians and smell the tyranny in the air.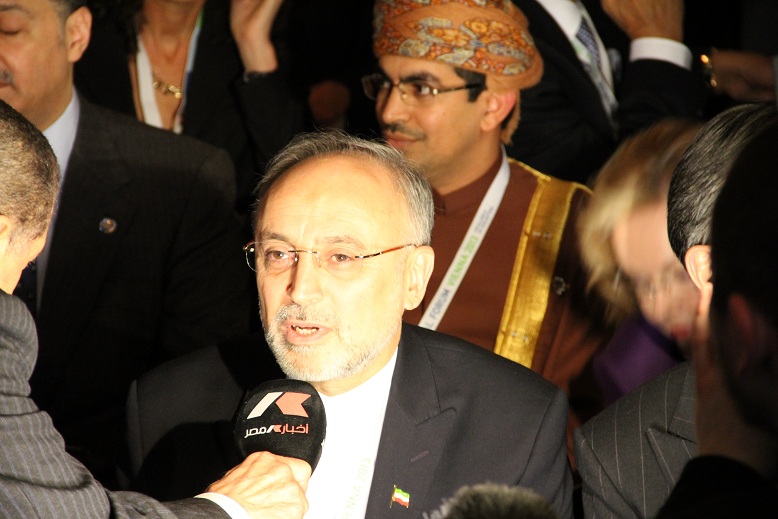 Reflections on a World Gone Mad, Part 1
As we reported last week, the fifth annual Forum of the UN Alliance of Civilizations met in Vienna on February 27th and 28th. The official goals of the AoC consist of vague feel-good bromides, but practically speaking, its primary purpose is to implement the program of the Organization of Islamic Cooperation. In particular, the AoC is keen to crack down on "defamation of religions".
Elisabeth Sabaditsch-Wolff attended last week's events in Vienna. She has filed a account on what she observed, and discusses the larger ramifications of the AoC in the ongoing Islamization of the West.
The report below is the first in a three-part series.
Reflections on a World Gone Mad
Part 1: Chamberlain is cloned!
by Elisabeth Sabaditsch-Wolff
"One of the major tasks of our generation is to build a global community, where people of all persuasions can live together in harmony and mutual respect."
— Karen Armstrong, AoC goodwill ambassador

"The great enemy of clear language is insincerity. When there is a gap between one's real and one's declared aims, one turns, as it were, instinctively to long words and exhausted idioms, like a cuttlefish squirting out ink."
— George Orwell

"Dialogue means persuasion through threats, 'cross-cultural understanding' is translated as submission."

            — Bat Ye'or, in Europe, Globalization
and the Coming of the Universal Caliphate
In past decades, there has been a more or less covert movement to deliberately dissolve the sovereignty of nation-states, particularly in Europe. Decisions regarding politics, culture and information which should be taken on a national or even a local level have been relegated to a great extent to an international level represented by organizations such as the Anna Lindh Foundation or the Alliance of Civilizations, both of which are, putting it mildly, obscure and unknown to the public. The sinister instruments used in these organizations are called "dialogue", "peace and harmony", "partnerships", and "multiculturalism". According to eminent scholar Bat Ye'or:
Europeans are hemmed by a game of multiple mirrors, which radiate at every level and into infinity, prefabricated opinions in accordance with political and cultural agendas, of which they know nothing and often disapprove, but which they finance with their taxes. […] This opaque, elitist system undermines democracy. It also lacks visibility, doubling and multiplying itself like a hydra into networks and sub-networks. (Bat Ye'or, Europe, Globalization and the Coming of the Universal Caliphate, p. 125-6)
The setting could not have been more bizarre: the Vienna Hofburg, the hub of the former Austro-Hungarian Empire, all glitzed up and shiny, hosted the most undemocratic event imaginable outside North Korea's borders. The Austrian monarchy can be hailed a beacon of democracy compared to the Alliance of Civilizations, which celebrated its 5th Global Forum in Vienna, sucking up financial and other precious resources and taxes along the way and producing — unsurprisingly — no tangible results.
More than 1,000 men and women attended this forum, young and old, clergy and imams, from near and far, all in perpetual smiles, chatting with each other in the imperial hallways about how to make the world a better place, all the while ignoring the usual elephant in the (Hofburg) castle. Peace and harmony for 72 hours, then it was a collective exodus to the airport to return to reality. In fact, for these 72 hours, the Forum completely negated the outside world, as if the inter-religious tensions existed only in the minds of a few loonies, and if there were only more talk about peace and harmony, these loonies would acknowledge their idiocies and disappear in history's dustbins. Irksomely, these men and women constituted a non-elected body, for not one spoke for himself, but rather identified with a group, most likely with a Muslim group.
In light of the Alliance's evil machinations, and before we delve into the actual meeting, it is well worth the effort to examine its origins and aims. The 2004 attacks in Madrid perpetrated by "Muslim extremists" shocked Spain, toppled its (conservative) government, and gave birth to the creation of the Alliance of Civilizations, which — in the words of the inimitable Bat Ye'or —
"would operate in the political and cultural spheres of the rapprochement of Islam and the West, thereby fulfilling the wishes of the OIC (Organization of Islamic Cooperation). […] This fell to a UN strategy on a world-wide scale. […] This project was not [Spanish prime minister] Zapatero's but the OIC's — Zapatero merely became their European representative." (p. 93)