A very bright light in Norwegian politics.
If only in Norwegian politics Siv Jensen was the norm, not the anomaly, Norway's government would no longer be deemed as extremist. Her political opponents have a lot to learn, the more extreme their positions vis-a-vis Israel, the less likely Israelis will take them seriously. If they want to have any influence on them whatsoever, they'll have to  moderate their politics and views.
Also: Seeing that Norway tops Europe statistics in death related Heroin use, maybe if they spent more time in focusing on that issue instead of on far away Israel, they would be better off.
NOTE: Trond Linstad is a notoriously anti-Israel/anti-Semite Norwegian convert to Islam.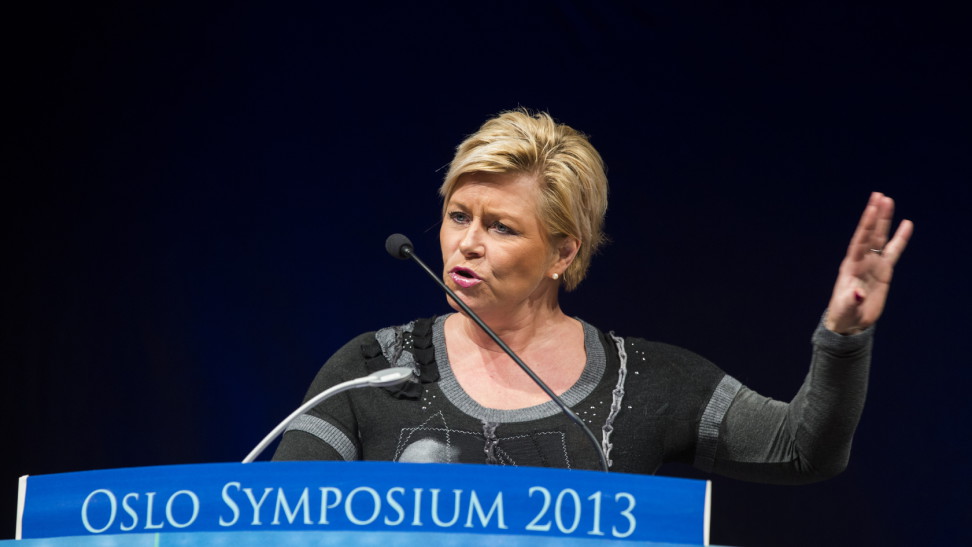 Jensen will send Linstad to the Holocaust Centre in Israel
– Only then you'll understand what Israel is all about.
Friday 1st March 2013, at. 2:35 p.m.
Progress Party leader Siv Jensen thinks it would be better use of the money to send the Norwegian Muslim Trond Linstad to the Holocaust Centre in Israel than to give him the King's Medal of Merit for his contribution to Muslims in Norway.
– It's only when you've been there, then you'll understand what the state of Israel is all about, said Jensen.
At the Conference Oslo Symposium, a two-day event sponsored by the conservative Christian organizations, the Progress Party leader expressed Friday great concern on measurements that show prejudice against Jews among Norwegians.
– Recently complained the manager of one of the largest mosques in Oslo over what he called Jewish power in the Norwegian media. We must turn back such nonsense. It is dangerous to let it go unchallenged. The same applies to the conspiracy theories that Jews preying on world domination, Jensen said, and received wide acclaim.
She noted that various Norwegian governments over the years have spent billions of dollars in aid to the Palestinians, and asked what Norway has to show for it.
– Nothing! Over 130 projects in conflict areas have been funded by Norway. Has it helped? The answer is no, hammered Jensen.
She added that there will be no solution until Palestinians start paving their own way.
– Hamas is not a partner for organizations that reject violence and recognize Israel's existence. A shared Palestinian leadership in Gaza and the West Bank makes the situation even worse . And unfortunately, Norway has supported the faction of President Abbas having received observer status at the UN. It is regrettable, said Jensen.
She reminded Other participants at the conference that the election this fall is between those who seek power to choose for others, while the bourgeois will have the power so that people will get to choose themselves.