Canada still sitting high in the saddle.
In an era where U.S. foreign policy has left a glaring void, it's great to see its northern neighbor filling it in with such ease and moral clarity.
NOTE: Finland's former president Tarja Halonen was there during conference, no mention whatsoever in the Finnish media about her reaction to Erdogan's statement. I interpret her silence to mean that she was in approval.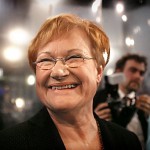 Baird: Turkey's remarks on Zionism 'deplorable'
By HILARY LEILA KRIEGER, BENJAMIN WEINTHAL
03/04/2013 01:07
In 'Post' exclusive, Canadian FM criticizes Turkish premier's statements equating Zionism with crimes against humanity.
Canada's John Baird Photo: REUTERS/Mohamed Abd El Ghany
WASHINGTON — Canadian Foreign Minister John Baird sharply criticized the Turkish premier's recent statement equating Zionism with a crime against humanity, in an exclusive interview with The Jerusalem Post Sunday.
"These remarks, we deplore them, and they're incredibly unhelpful to the situation in the region," Baird told the Postahead of his address to the American Israel Public Affairs Committee annual policy conference.
During a speech Wednesday in Vienna, Turkish Prime Minister Recep Tayyip Erdogan said that, "Just as with Zionism, anti-Semitism and fascism, it has become necessary to view Islamophobia as a crime against humanity."
"How many Islamic states are there? There's only one Jewish state," Baird said.
"I think events in the middle of the last century compel humanity to make sure there is a Jewish homeland, a sanctuary, and today a country with peace and security."
Baird also warned that the Palestinian Authority would stand to lose a significant amount of aid from Canada should Fatah join Hamas in a national unity government as is currently being discussed.
"If Hamas were to come into a goverment of the Palestinian authority, that is a red line for us," Baird said.
"We're not going to be partnering with and funding an international terrorism group. It's a non-starter."
His comments come after Israel's Ambassador the US Michael Oren told AIPAC's opening conference panel Sunday morning urged the Palestinians not to take such a step.
Baird has also been campaigning amongst his European counterparts to designate Hezbollah as a terrorist organization, which would also have consequences for the Lebanese militant group's funding.
"When terrorist incidents can happen right inside the European Union by Hezbollah, that compels civilized people everywhere to act," Baird said, referencing the killing of several Israeli tourists in a bombing in Bulgaria this summer that the local authorities have blamed on the Lebanese group.
"We've got to call it for what it is. No moral relativism," he declared. "No saying well the left hand gives out social services and the right hand is an international terrorist organization. It's all attached to the same body and the same head."