They're now busy chumming the water.
The oxymoron of an "Islamic peace conference", should be the  first definitive, telltale marker that something isn't right with the conference. They really do believe that you're a bunch of saps willing to believe just about anything.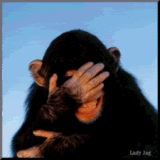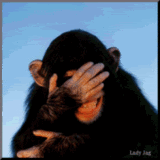 H/T Cliff Pinto
UPDATE:
Islamic 'Peace Conference' in Melbourne
By now some of you may have heard that a "Peace Conference" will be held in Ascot Vale on March 15-17. For $50 people can come to the Melbourne Showgrounds thinking they might be attending an interfaith event, or some Islamic cultural folk festival.
They will be coming to something quite different. It is all about one thing: Islamic dawah. This is the Arabic term for mission, evangelism, or proselytism – propagation for Islam in other words. It is all one-way traffic. It is an Islamic propaganda event designed to conceal the real nature of Islam, and bring many more infidels into submission to Allah.
More here. H/T: Dalit Malka Binshtock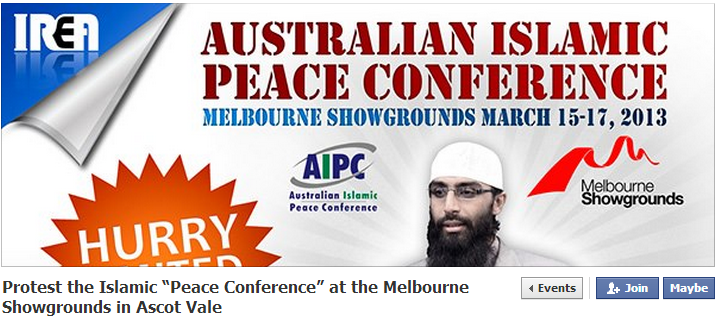 Dear Friends,
Many of you will be aware of the violent protests opposing Geert Wilders expressing his views in a country that apparently espouses and defends Freedom of Speech.
On March 15,16,17, a radical Muslim group (The Islamic Research and Educational Academy – IREA) aims to host a 3 day "Peace Conference" at the Melbourne Showgrounds in Ascot Vale.
Although it is being promoted as an interfaith program which 'welcomes people of all faiths', an audiotape of a planning meeting in December shows its real intent.
The organiser, Waseem Razvi, said at that meeting:
"Comparative Religion is our tool which we use to convey the message of Islam…we want to make Islam the fastest growing religion [in Australia] in the next five years …we need to have interfaith, multifaith and debates with the non-Muslim community to engage them, and to bring them over to Islam… We don't accept every religion.
We are there to convey the message that Islam is the only right religion …We want the dawah [Islamic propagation] to reach the authorities. So unless we invite them for an event like this, if you call the Prime Minister to the Islamic centre or the mosque, it's not going to happen, so we need to have a bigger event … so we can convey the message to them…The title of the conference is Australian Islamic Peace conference… but the main purpose of the entire conference is dawah.
So most of our topics will be revolving around dawah." 1000 preachers of Islam are being trained for this event, according to the IREA website IREAWORLD.org
The taped meeting also revealed the following:
(1) The Prime Minister, Premier, Commissioner of Police, MPs, church leaders, and other community leaders were being invited in the hope that they will become Muslims
(2) The 20 invited international speakers (who are all Muslims) have been banned from countries such as the UK and Canada for promoting terrorism, or called for the annihilation of the Jews, endorsed violent jihad, villified gay people, made misogynist statements, promoted circumcision (i.e. genital mutilation) of girls, and advocated the execution of those who leave Islam.
(3) The local Muslim speakers, listed on the IREA website, have encouraged the beating of women, spoken in support of known terrorists and called for Sharia law in Australia.
(4) The organiser Waseem Razvi endorses the amputation of hands (of thieves) and the death penalty (for adulterers). He is an Islamic supremacist, claiming that "Muslims are the best of mankind" and that "Islam will be victorious over all other religions".
(5) The Conference will be used to launch 20 Islamic schools in Australia to fund Muslim preachers using teacher salaries. Children as age as 5 will also be trained for Islamic outreach using curriculum from Saudi Arabia.
(6) The Conference will segregate men and women in accordance with fundamentalist Islamic law – no women speakers are listed.
Concerned Citizens have started a facebook page
Protest the Islamic "Peace Conference" at the Melbourne Showgrounds in Ascot Vale
https://www.facebook.com/events/460247080713367/?notif_t=plan_user_invited
As Australians we condemn the Prime Minister attending an event that has the sole aim of propagating and Islamising Australia. The ALP as an entity has failed to preserve and protect traditional Australian values, traditions and heritage. Many citizens hold the strong view, the appearance by Ms. Gillard is nothing more than a political driven move aimed at securing the muslim vote consequently empowering their agenda.
We oppose and reject the failed experiment of Multiculturalism, which has been abused by dogmatic sections of the Islamic community. The term Multiculturalism has become a divisive tool in society and must be replaced with a policy centred on "assimilation" & "Integration".
https://www.youtube.com/watch?feature=player_embedded&v=tsiKVc028I0#!
Political correctness has been embraced by this Government and used to demonise any person that voices concern about Multiculturalism or raises concern about the intent of some in the muslim community. Exercising our right to freedom of speech no results in slurs such a "racist", "bigot", "Islamophobic" and the like, these terms are used solely to discredit and silence those raising valid and genuine concerns.
There is no longer a balanced approach by this government in acknowledging and addressing these concerns. The Governments failure to condemn and utterly reject any notion or suggestion of changing the face of Australia or islamisation is reprehensible.
At the same time this government is playing a dangerous game of duplicity in so far as they are contacting leaders of middle eastern Christian churches offering to visit their churches in the lead up to the elections.
In response, we would like you to do the following:
• (1) Contact Mark O'Sullivan CEO, Royal Agricultural Society of Victoria (RASV), Melbourne Showgrounds, Epsom Road ASCOT VALE 3031 Email:
info@melbourneshowgrounds.com Phone: (03) 9281 7444. Tell him that this event is being misrepresented in its advertising and is likely to cause social disruption in the Australian community based on past statements of the invited speakers. It should be cancelled under RASV regulation 7.2 (i) See

http://www.rasv.com.au/Files_Content/general_regulations_non_animal.pdf . Major sponsors of the RASV include the Australian International Beer Awards and the Royal Melbourne Wine Show
(2) Cut and paste the above information (do not use the 'Forward' facility) and send it onto your MP, newspapers and church leaders to warn people about not attending this bogus "Peace Conference".
Some articles which give details about these and other aspects of this conference are attached, as well as a transcript of the audio of the planning meeting.
Here are links to newspaper articles about this conference written by
(a) Barney Zwartz of the Age: http://www.theage.com.au/national/fiery-imam-invited-to-speak-here-20121211-2b7td.html

(b) Andrew Bolt of the Herald Sun: http://blogs.news.com.au/heraldsun/andrewbolt/index.php/heraldsun/comments/if_wilders_is_wrong_explain_this_conference/

and

http://blogs.news.com.au/heraldsun/andrewbolt/index.php/heraldsun/comments/column_wilders_cowardly_critics_must_explain_this_conference/

(c) Australian Jewish News: http://www.jewishnews.net.au/tag/abdul-rahman-al-sudais
Protest the Islamic "Peace Conference" at the Melbourne Showgrounds in Ascot Vale