Churchill had the same opinions of basic Islam 101 as the EDL.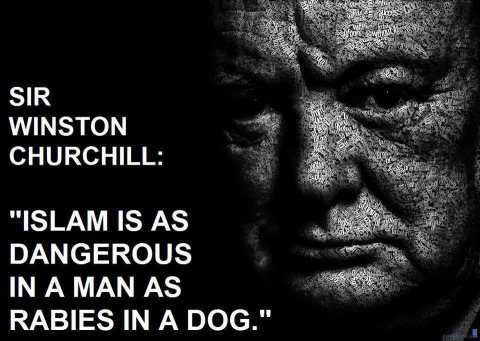 15 arrested and smoke bombs hurled at police as English Defence League confront anti-fascist group
Newlyweds caught up in demonstration as they get married in city square

Police penned in opposing protesters on opposite sides of square

By DAILY MAIL REPORTER
PUBLISHED: 17:14 GMT, 2 March 2013 | UPDATED: 01:47 GMT, 3 March 2013
Fifteen people were arrested today as smoke bombs were hurled at police during a rally by the far right English Defence League.
About 700 EDL demonstrators gathered in Albert Square, Manchester, with about 350 people taking part in a counter protest.
Hundreds of officers from Greater Manchester Police penned in the demonstrators as the left wing Unite Against Fascism held a counter demonstration.
A green smoke bomb and then a white one was thrown as police kept the groups apart at opposite ends of Albert Square in the city centre.
Protesting: Hundreds of Engilsh Defence League demonstrators in Manchester this afternoon
Careful: An officer kicks away a smoke bomb hurled at officers during the EDL march