It dovetails with any increase in the size of an Islamic community.
I have been reporting about jihadi-terrorist contacts in Finland for quite some time now,  so this is nothing new to those of you who follow this blog on a daily basis. Back in 2006 I posted a report about a Somali 'scholar', Idris Hassan Farah, interviewed on Finnish state TV (YLE), who admitted that Somalis were traveling back and forth from Finland to join the fighting in the homeland.
Farah stated then that he rejected to help the state police (who offered in return, Finnish citizenship) in monitoring the Muslim community for any potential Muslim fundamentalists getting involved in terrorism. It appears however, that the Finnish state police (SUPO) have succeeded in finding others.
NOTE: I believe however, that the lion share of information about terrorism activity in Finland is coming from outside intelligence services, not from SUPO itself.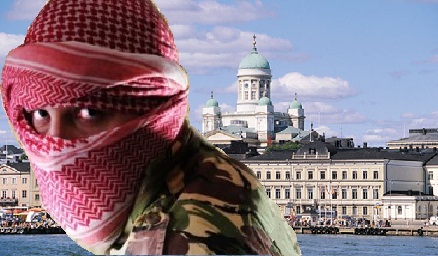 Supo: Terrorism contacts growing in Finland
The number of people with terrorist links in Finland has grown into the hundreds, according to Finland's security police Supo. In its freshly-released annual report Supo said that in spite of this development Finland still enjoys a low terrorism risk.
The Supo report noted that Finland currently hosts a few hundred individuals who are part of terrorist or radical networks.
The security police said that in general, these individuals support the operations of extreme groups abroad. Some of them travel to conflict areas to lend their support to local activities.
These operatives have left Finland to participate in terrorist or extremist activities in countries such as Somalia and Syria. Supo said it is concerned about the people who return to Finland from these areas.
On the other hand, home-grown radicalism appears to have dwindled, Supo reported. However the organization said it is concerned about the increasingly confrontational relationship between extreme right and anti-fascist groups.