He's back!
Yes it's true, after the trip to Sweden, on the 5th of March next week, the infamous secretary-general of the Organization of the Islamic Cooperation will be returning to Helsinki Finland to meet with the Finnish president Sauli Niinistö, the speaker of the house of parliament and his anti-Israel Finnish foreign minister, Erkki Tuomioja to discuss how to make Finland more sharia compliant. Then it's off to breakfast with religious leaders for some "dialogue".
The last time Ihsanoglu was here, he made the highly bigoted and non-factual statement that only non-Muslims could be anti-Semitic. Well we all know very well just how anti-Semitic Muslims can be, especially with all those Islamic anti-Jew textual references at their disposal.
Since I won't be attending any of the meetings, there's no way telling what he said, but you can be assured of one thing, it won't be anything to secure your free speech liberties.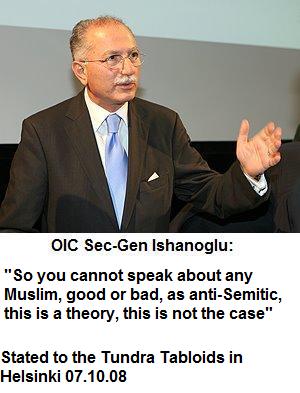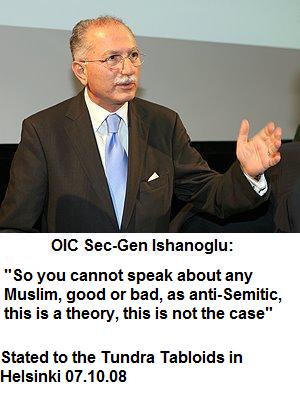 OIC Secretary General, Prof. Ihsanoglu, to visit Sweden and Finland
[…]
On 5 March, the Secretary General will be proceeding to Finland on an official visit upon the invitation of H.E. Mr. Errki Tuomioja, Minister of Foreign Affairs of Finland. During the visit, Ihsanoglu will be received by H.E the President of the Republic of Finland Sauli V. Niinistö. The Secretary General will also meet with Finnish Foreign Minister and other high level officials for talks on issues of mutual concern and for discussions on ways and means to further improve bilateral relations between Finland and the OIC. He will also attend a working lunch to be hosted by the Speaker of the Parliament and a breakfast meeting with the Finnish Religions Forum "USKOT".