J.E. Dyer, a retired US Naval intelligence officer, gives an astute analysis the US military's present day operational readiness in the fifth year of Obama's presidency, in light of the Iranian nuclear threat and the uncertainty of the administration's willingness to stop it.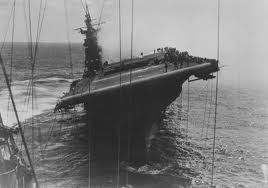 Dead in the water: Obama's military and the Iran nuclear threat
By Jennifer E. Dyer
Two to three years ago, the United States Department of Defense had enough military forces on station in, or readily deployable to, the Persian Gulf region (the "CENTCOM AOR" – area of responsibility – or Southwest Asia, as it is called in the military) to execute a limited strike on Iran's nuclear facilities without asking Congress for special funding.  The military could have performed such an operation "out of hide," as quickly and seamlessly as the president wanted it to.
Four to five years ago, moreover, the U.S. had the regional political capital to use our bases in the local nations (e.g., Qatar and Bahrain) to launch and direct such a strike campaign.
Both of these conditions have now changed.  I wrote about the political shift in December of 2010, after the Persian Gulf nations executed a flurry of bilateral defense agreements with Iran, and Bahrain, in particular, announced that the U.S. would not be able to use Bahraini territory for launching military operations against Iran.  Even a subtle shift in these nations' postures means that the U.S. will have less discretion in what we propose to do against Iran.  U.S. military actions that are so limited as to leave Iran able to retaliate against her neighbors may not be acceptable to our hosts.
Mounting a limited strike campaign using only U.S. Navy assets and the Air Force's global strike bombers (which don't need the Persian Gulf bases) has remained a fall-back option.  But as of 2013, with the funding issues inherent in the long-term budget stand-off, that option can no longer be performed out of hide.  The Navy has already had to cancel a carrier strike group deployment that it couldn't project being able to pay for, and we can no longer assume that the Air Force will have the ready aircraft and aircrew – not to mention the fuel – to perform a bomber campaign against Iran.
The central reason is that the military doesn't know whether or when it will get more operating funds.  There isn't a federal budget, and the recurring fiscal showdowns between Obama and the House Republicans make all future military funding a big question mark.  There is no end-point beyond which the military knows how much money it will have.  This isn't a question of pinching pennies for a while until the money kicks in on a date certain.  DOD doesn't know what its future operating picture will be, beyond the next couple of months.