Not to worry though, Obama says the war is over.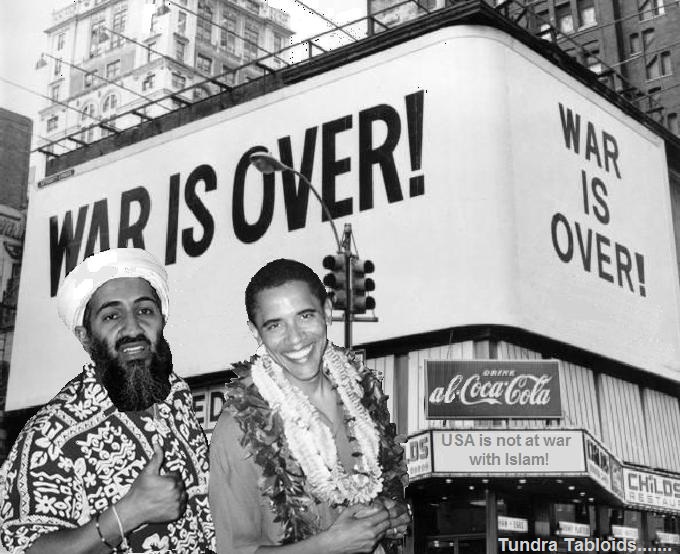 Report co-author Robin Simcox described the operatives as "US citizens who are mostly educated, mostly employed, who haven't been marginalized by the system. They've mostly passed through the system."
New report details al-Qaida membership in the US
New York seen as a terror group hub; majority of members under age 30, have US citizenship, well-educated, employed.
WASHINGTON – More than half of all al-Qaida operatives and their affiliates in the United States who have committed terrorist offenses are US citizens and a third were born in America, according to a new report profiling the groups' American adherents.
The 720-page, telephone book-sized volume produced by the Henry Jackson Society and presented at the Center for Strategic and International Studies Tuesday, carefully examines the 171 cases of al- Qaida members or those inspired by the organization who have been convicted in US courts or participated in suicide attacks against the US homeland between 1997 and 2011.
The study found that 95 percent of the terrorist offenses were committed by men, 57% of whom were under the age of 30. New York was seen as a hub for their activity, with more – 14% – residing there than elsewhere and with large number of those living elsewhere trafficking through.
Nearly a quarter of the operatives were converts to Islam, with over half of those born in the US having converted.
And those who converted, all of whom did so from Christianity as far as could be ascertained, were far more likely to have carried out offenses (as opposed to having participated only in training or incitement) than others.
The group researched were fairly well-educated and employed. More than half had attended some form of college, and a quarter had done some higher study. In addition, more than half, or 57%, were in school or had a job at the time they were charged or committed their attacks.