Obama's antisemtic pal.
Be reminded that this is the same Islamocreep who said in 1997 as Mayor of occupied Constantinople (Istanbul), that "the Jews are no different from that of the Nazis". That statement according to the EUMC's own working definition of antisemitism, constitutes an act of antisemitism.
Drawing comparisons of contemporary Israeli policy to that of the Nazis.
Holding Jews collectively responsible for actions of the state of Israel.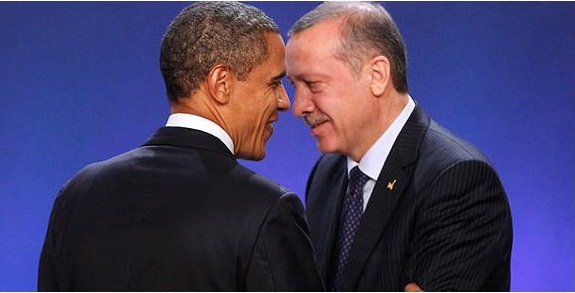 So Erdogan says Islamophobia and antisemitism are the same. How does he square that statement with the one issued by his pal over at the OIC, Ekemeleddin Ihsanoglu, that Islamic/Muslim antisemitism doesn't exist? All the while the OIC is building support for the fight against mythical Islamofauxbia, he denies the existence of antisemitism coming from the Islamic community. The statement in the video comes at the 8 minute mark.
NOTE: Highly arrogant move by the Islamocreep to promote an "alliance of civilizations" with classic Islamic clash of civilizations mentality upon the world's stage, don't you think? He does so, because like the OIC's Ihsanoglu, he believes what he says, and thinks he can get away with it.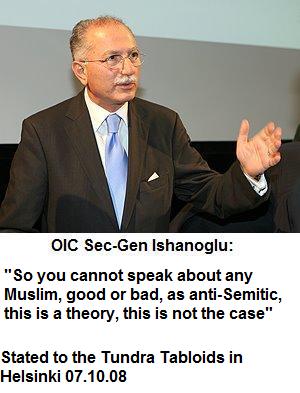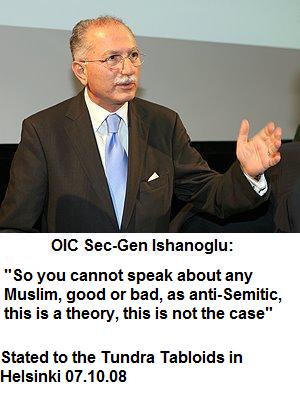 Erdogan says Zionism crime against humanity
By JPOST.COM STAFF
02/28/2013 11:11
PM speaking at Vienna forum of the Alliance of Civilizations, a UN forum for West-Islam dialogue; Kerry set to visit Turkey Friday.
Turkish Prime Minister Recep Tayyip Erdogan Photo: REUTERS/Umit Bektas
Turkish Prime Minister Tayyip Erdogan called Zionism a "crime against humanity" likening it with anti-Semitism, fascism, and Islamophobia  while speaking at a UN forum on Wednesday.  Erdogan was speaking Wednesday before a Vienna forum of the Alliance of Civilizations, a UN framework for West-Islam dialogue.
UN Watch urged UN chief Ban Ki-moon who was present on the stage yet stayed silent, according to UN Watch, to speak out and condemn the speech. It also called on Erdogan to apologize.
"We remind secretary-general Ban Ki-moon that his predecessor Kofi Annan recognized that the UN's 1975 Zionism-is-racism resolution was an expression of anti-Semitism, and he welcomed its repeal," UN Watch stated.
In its condemnation of Erdogan's remarks which it called "Ahmedinejad-style pronouncements," UN Watch stated that the remarks "will only strengthen the belief that his government is hewing to a confrontational stance, and fundamentally unwilling to end its four-year-old feud with Israel."
Israel sent messages to Ankara over the last two weeks that it is interested in creating a more "positive dynamic" in its badly strained relationship with Turkey so the two countries can work together to further common interests, government officials said on Monday.
More here. Via my good pals Sheik Yer'Mami and Vlad (Vlad promises video)