This sentiment is more common among Muslims then the political elite will care to admit, and is present in just about city in Europe where they reside, and the Left tolerates it with a blind eye.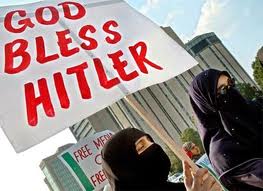 Turkish Youths Approve of Holocaust on Dutch TV
On a program of the Dutch NTR TV station, a number of Dutch Turkish youths said that they approved of the Holocaust. One of them said, "What Hitler did to the Jews is fine with me." The Center for the Information and Documentation Israel has called on the Minister of Education to investigate anti-Semitic prejudice among high school students. An earlier study among Amsterdam high school students showed the existence of much stereotypical prejudice against Jews.
Via: BadNewsFromTheNetherlands and original article from ND.nl