The question is, will it matter whatsoever which Islamonazi fills in for the one taken ill?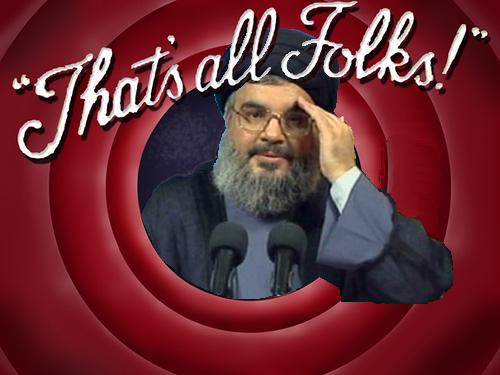 Second report claims Nasrallah sick, being treated in Iran
Other sources claim Hezbollah leader wounded by Syrian rebels; his organization says he's in Lebanon and fine
By TIMES OF ISRAEL STAFF February 27, 2013, 12:17 am 8
Hassan Nasrallah was recently flown from Beirut's Rafik Hariri International Airport to Tehran for treatment of an unspecified illness, Turkey's Anadulo news agency reported Tuesday, in a second report in two days alleging that the Hezbollah leader is sick.
The date of his transfer was unknown, the Turkish report said, adding that the terrorist leader was now said to be in stable condition.
Lebanon's Sawt Beirut International radio station, which is affiliated with political factions opposed to Hezbollah, reported Monday that the Shi'ite Lebanese leader, who is 52, traveled to Tehran for treatment for cancer, in a plane sent by the Iranian presidency. Nasrallah's health was said to have deteriorated after the cancer was discovered.
Hezbollah denied any allegation that its leader has taken ill. "Hassan Nasrallah is in good health," the terrorist organization was quoted as saying, adding, "he is in Lebanon, hasn't left it for any place."
Some Arab media have reported that Nasrallah isn't sick, but rather that he was wounded during an attack by Syrian rebels against a Hezbollah base. The Syrians were reportedly attacking in response to Hezbollah assistance to the Assad regime against rebel forces.
Nasrallah, Israel's Channel 10 reported, is beginning to consider who should assume his role. On Monday, Sawt Beirut said that Hezbollah was forced to cancel a number of meetings, arranged to choose Nasrallah's heir, due to "deep disagreements" relating to his deputy, Naim Qassem. It did not elaborate.