Disastrous tomfoolery.
It's simply not going to happen. The Israelis know fully well what awaits them once the UN gets involved with anything remotely related to Israel's security. There is no way the Obama administration nor the international community will be able to force Israel into signing on to such a deal.
NOTE: The same nonsense was supported by Obama's radical Lefty nut-job, Samantha Powers.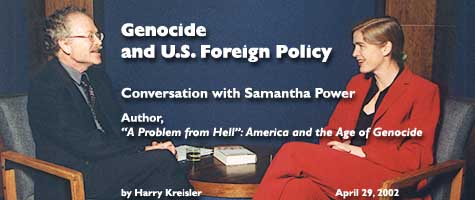 Samantha Powers: Putting something on the line might mean alienating a domestic constituency of tremendous political and financial import; it may more crucially mean sacrificing — or investing, I think, more than sacrificing — billions of dollars, not in servicing Israel's military, but actually investing in the new state of Palestine, in investing the billions of dollars it would probably take, also, to support what will have to be a mammoth protection force, not of the old Rwanda kind, but a meaningful military presence.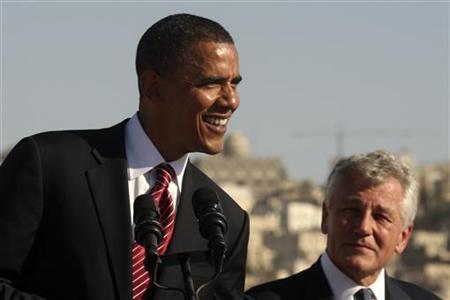 HAGEL 2009: SEND U.S. TROOPS TO IMPOSE PEACE ON ISRAEL, PALESTINIANS
Former Sen. Chuck Hagel (R-NE), President Barack Obama's nominee for Secretary of Defense, co-authored a 2009 report that called for U.S. troops to lead a peacekeeping force that would patrol the future borders between Israel and a Palestinian state.
The report, referenced Saturday by Israel National News, also suggested that peace could be imposed from outside by the U.S., describing arguments to the contrary as "invalid."
The report, co-authored by Hagel with Carter administration Secretary of State Zbigniew Brzezinski, and former George H.W. Bush adviser Brent Scowcroft, among others, was produced in an effort to influence Obama administration policy in the president's first term. It called upon the new president to make resolving the Israeli-Palestinian conflict a top priority "early in his presidency" and to override "certain domestic constituencies."
The report called for the U.S. military to be deployed as part of its suggested plan for peace:
A non-militarized Palestinian state, together with security mechanisms that address Israeli concerns while respecting Palestinian sovereignty, and a U.S.- led multinational force to ensure a peaceful transitional security period. This coalition peacekeeping structure, under UN mandate, would feature American leadership of a NATO force supplemented by Jordanians, Egyptians and Israelis. We can envision a five-year, renewable mandate with the objective of achieving full Palestinian domination of security affairs on the Palestine side of the line within 15 years.