The democracy of the totalitarians.
While I still back the original U.S. move to dethrone Saddam Hussein from power, I am however, supportive of Daniel Pipe's astute advise that he gave early on in the war. remove Saddam, remove U.S. troops to secure camps outside of Iraqi cities, and hand the country back to the remaining generals, with a promise to be back if they return to their old ways.
There is no way of reforming the unreformable, even in a country that was more sophisticated and secular (as a Middle East Muslim country could ever get) as Iraq. I was proved wrong, and Daniel Pipes was proved right, there is no way of getting around it. It's just too bad his council wasn't sought by the Bush administration.
NOTE: One major telltale sign that Iraq is a lost cause, is the extreme hatred they still have for their liberators.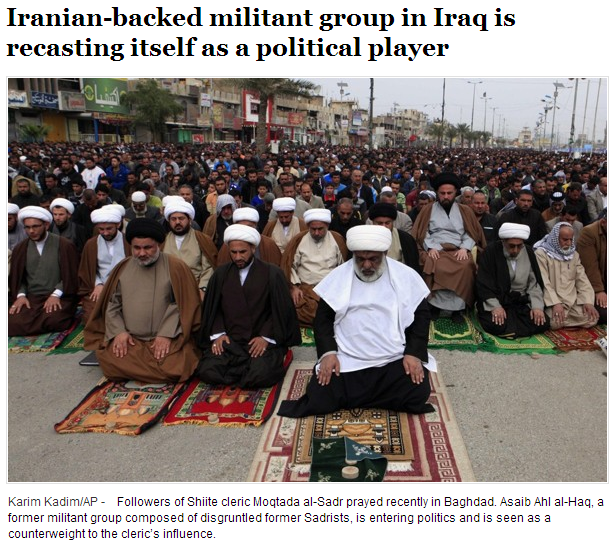 BAGHDAD — The Iranian-backed Shiite group responsible for most of the attacks against U.S. forces in the final years of the Iraq war is busily reinventing itself as a political organization in ways that could enhance Iran's influence in post-American Iraq — and perhaps beyond.
In recent months, Asaib Ahl al-Haq — the League of the Righteous — has been rapidly expanding its presence across Iraq, trumpeting the role the once-shadowy group says it played in forcing the departure of U.S. troops with its bomb attacks against American targets.
The group's chief officers have returned from exile in Iran, and they have set about opening a string of political offices, establishing a social services program to aid widows and orphans, and launching a network of religious schools, echoing the methods and structures of one of its close allies, the Lebanese Shiite movement Hezbollah.
At one of the group's offices in the Baghdad neighborhood of Kadhimiyah, portraits of Iranian Supreme Leader Ayatollah Ali Khamenei and of the Islamic republic's founder, Ayatollah Ruhollah Khomeini, hang on the walls, alongside those of Iraqi Shiite religious figures and of the group's leader, Qais al-Khazali. He is among those who have relocated from Iran, where he took refuge in 2010 after nearly three years in U.S. custody because of his alleged role in directing a raid that killed five Americans.
The immediate goal is to raise Asaib Ahl al-Haq's public profile after years of secrecy necessitated by the war against the Americans, said Sheikh Mithaq al-Humairi, 30, the youthful cleric who is in charge of the office, located in a small house on a quiet residential side street.
"Asaib Ahl al-Haq was founded as an Islamic resistance movement to fight the American occupation, but now this stage is over," he said. "Now we have entered a new phase, which is to make people aware of Asaib Ahl al-Haq."