This mirrors the multiculturalist agenda to a tee.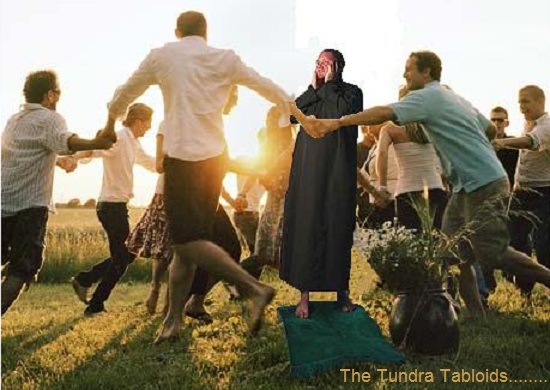 The archbishop of the Church of Sweden, Anders Wejryd, is 'skeptical' of the call by the Moderaterna politician, but no doubt has he himself given open support to multiculturalism policies, otherwise he couldn't have ever risen to such a high office within the Leftist  influenced church in the first place.
The two issues mirror the other. Multiculturalism demands there be no single dominant traditional that reigns supreme over the other. Just like as the host culture must give away to the plethora of subcultures forming within it, so to must the Swedish Lutheran Church.  It can no longer be a understood as a Christian entity, but a qausi, multi-religous one, while the rest, namely Islam, has its identity strengthened.
This is the natural outcome of multiculti policies.
"The Church of Sweden must be a bridge builder, creating space to meet and bringing everybody together," thought Kristersson, referring to the new multicultural and multireligious Sweden. Kristersson's vision implies that Swedish churches should make the Christian faith just one of many in its activities, and in the future actively work to encompass all religions.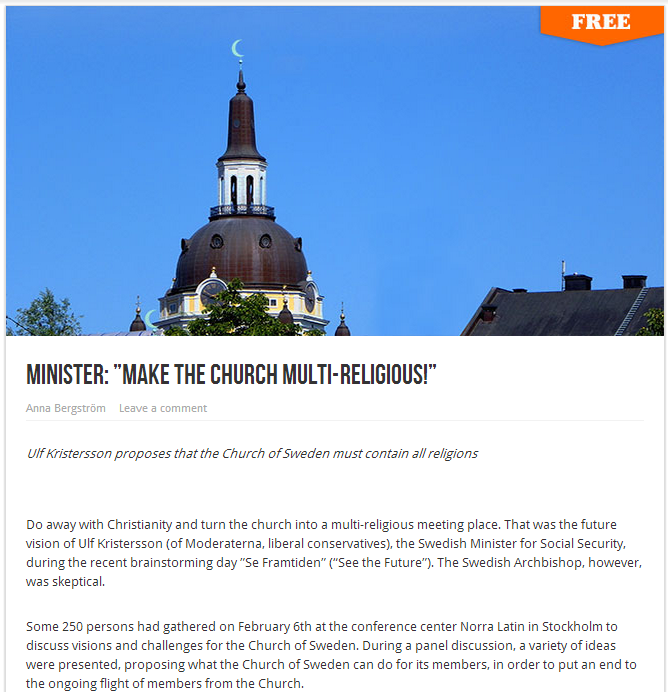 Some 250 persons had gathered on February 6th at the conference center Norra Latin in Stockholm to discuss visions and challenges for the Church of Sweden. During a panel discussion, a variety of ideas were presented, proposing what the Church of Sweden can do for its members, in order to put an end to the ongoing flight of members from the Church.
During the previous decade, Church of Sweden has lost approximately one percent of its members, some 60,000, annually. This flight of members has also led to a significant decline in income for the Church. Many congregations in Sweden face significant changes in order to operate in a future with falling revenues, while at the same time ever more people ask the Church for help.
The proposal from minister Ulf Kristersson was quite a bit more radical than most others.
[…]
Archbishop Anders Wejryd responded skeptically to the proposal from Moderaterna. The Archbishop thought that the Church of Sweden is a fine meeting place already, and that the Church of Sweden cannot be conceived of as being non-Christian.