$119,000 dollars to blow before he blew.
Living off the 'kaffir' all the while he's planning to murder them. Sick right? But very much an Islamic fundamentalist way of thinking, and you can be assured that he deemed it a jizya payment.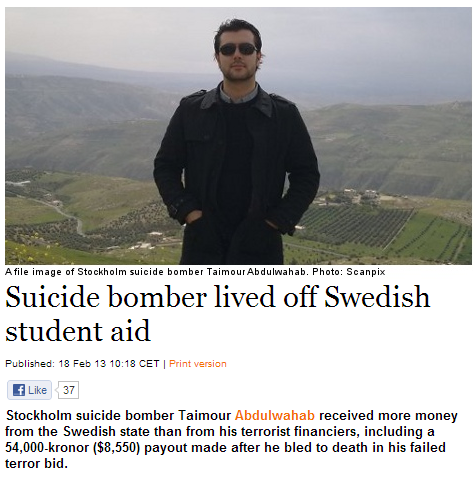 All told, Abdulwahab received nearly 750,000 kronor ($119,000) from the Swedish National Board for Student Aid (Centrala studiestödsnämnden, CSN), the Dagens Nyheter (DN) newspaper reports.
The figure is more than ten times the estimated $8,000 sum cited in a Scottish court's conviction last year of Nesserdine Menni, who was sentenced to seven years in prison for funding Abdulwahab's December 2010 attack in Stockholm.
The revelations come from Swedish author Mats Ekman, the author of a book on Iraqi intelligence activities in Sweden during Saddam Hussein's rule of Iraq.
Ekman examined all of Abdulwahab's student aid applications and payments, and discovered the Stockholm suicide bomber frequently sent certificates to CSN verifying his coursework.
"I would like to thank CSN and wish you all a Merry Christmas and a Happy New Year," Abdulwahab wrote at the end of one of his letters to the agency.