Trying to modify a radical's behavior with awards is a fool's errand.
Yet another medal handed to this destructive demogue-in-chief with a design to modify his behavior. The Nobel was given to him by the academy as an incentive to divorce himself from George Bush's foreign policies, and this one, by Peres, hopes to limit/modify his anti-Israel behavior.
H/T: Carl in Jerusalem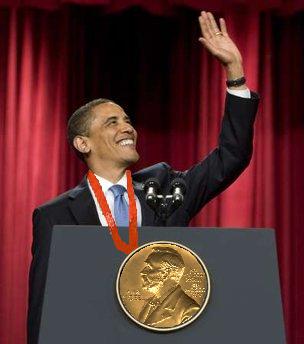 Obama's award is from Peres and not from the people of Israel
I'm getting a lot of email asking me how Israel could be awarding its 'highest civilian honor' to the most anti-Israel President of the United States ever, Barack Hussein Obama. Here's some fairly typical coverage from Fox News.
Israel will award President Barack Obama the country's Presidential Medal of Distinction during his upcoming visit.

Israeli President Shimon Peres' office said Monday that Obama will be recognized for his "unique and significant contribution to strengthening the State of Israel and the security of its citizens."

Obama is scheduled to visit Israel in March — his first as president.

Obama has often had a tense relationship with Israeli Prime Minister Benjamin Netanyahu over the Jewish state's West Bank settlement policies and the lack of peace process with the Palestinians.

But Peres and the committee behind the award noted Obama's overall friendship and backing of the Iron Dome missile defense system.

Israel's Presidential Medal of Distinction is comparable to the France's "Legion of Honor" or the "Order of Canada."
When this story was covered in Israel, it was clear that this was a medal decided upon and awarded by President Shimon Peres and not by any elected representative of the people of Israel. Notice that the JPost headline is "Peres to honor Obama with medal…" and the article makes quite clear that the medal is a quid pro quo for Obama awarding the medal of freedom to Peres last June. This is from the JPost link: