They never rest. Back in 2008 went I went head to head with the OIC sec-gen, Ihsanoglu, he made it clear that the criminalization of "Islamofauxbia" was a top priority, now they are shifting into gear to have their agenda enforced. The need to put a stop to the Istanbul Process should be on everyone's agenda.
H/T: Sheik Yer'Mami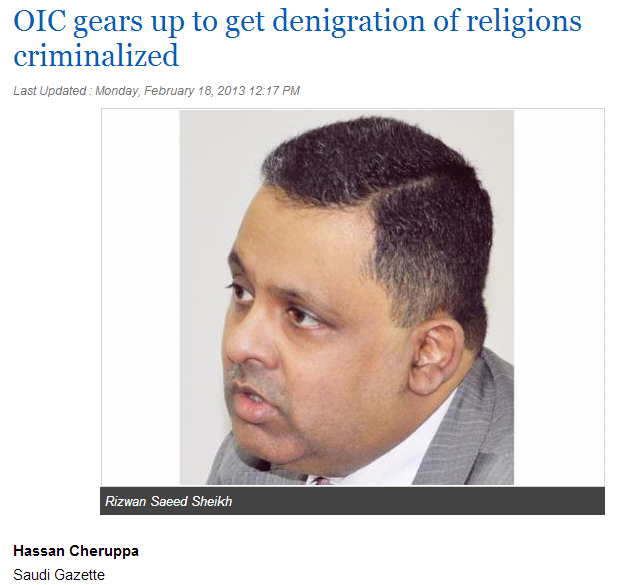 JEDDAH — Getting the go-ahead from the Cairo Islamic Summit, the Organization of Islamic Cooperation (OIC) has been actively trying to get the denigration of religions recognized as a criminal offense, according to a top official.
"Next session of the Istanbul Process on Islamophobia will be held in the first half of this year, and the session will squarely focus on the issue of criminalizing denigration of religions," said Rizwan Saeed Sheikh, director of cultural affairs at the OIC general secretariat and spokesman for the OIC secretary general.
In an interview with Saudi Gazette, Sheikh underscored the need for transposition of the international law to domestic one to effectively combat Islamophobia, which is a contemporary manifestation of racism mainly targeting Islam and Muslims. He said the OIC seeks establishment of an international observatory, based in Geneva, with a global mandate not only to monitor denigration of Islam but all other religions.
"The OIC is of the firm view that any religion or its symbols should not be denigrated. The Cairo Islamic Summit endorsed this position and tasked the OIC secretariat to develop a unified strategy to impress upon the international community to take effective measures against such acts of incitement of intolerance and hatred that may lead to violence and loss of lives," he said while noting that Islamophobia figured high on the agenda of the summit.