They've already seriously damaged their tourist industry, now they're handing it the death knell, and never mind the comment about the 'tourist areas not being affected', they will be as the area begins to dry up, the sharia enforcers can't help themselves.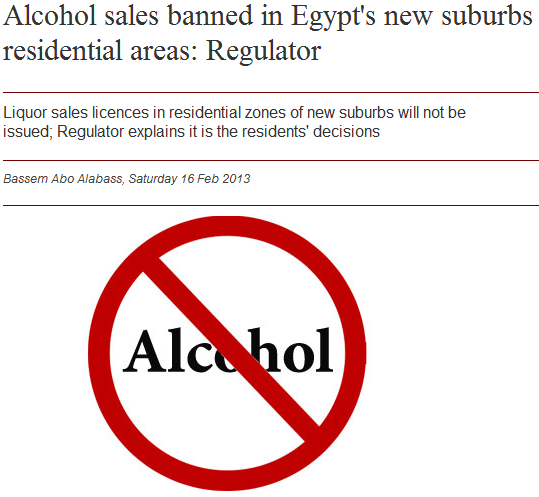 Egypt will stop issuing licences for the sale of alcohol in some urban areas due to local complaints over safety, a government official has said.
The new measures will apply to recently-built settlements on the outskirts of Egypt's major cities such as Cairo and Alexandria, the vice-president of the New Urban Communities Authorities told Ahram Online.
"It's not our decision. The cities' boards of trustees who are freely elected by the residents are demanding the closure of places which sell alcoholic products and have submitted numerous complaints of troubles the residents incur," Nabil Abbass said in a phone interview on Friday.
He went on to quote the residents who claim that liquor stores are the first places attacked in Egypt's security vacuum. Living close to the liquor store, therefore, puts the residents' lives in danger.
"The decision will affect only the residential areas of the new cities, while other areas, such as touristic, industrial and commercial zones, are still free from the ban," Abbass added.