Hit the road jack, and don't ya come back no more, no more, no more, no more.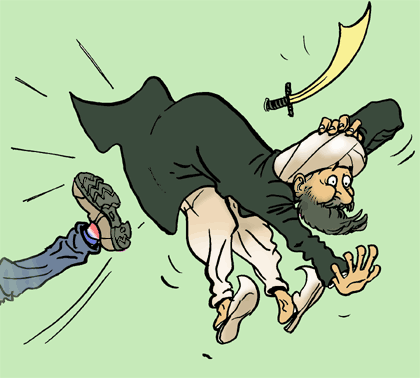 UPDATE: AR informs the TT that Maan says that the NGO responsible for inviting the Hamas delegation was…
Bulgaria's Center for Global and Middle East Studies. Head of the center Mohammed Abu Assi told Bulgarian news site Dnevnik.bg that the visit aims to "improve Bulgaria's image in the Arab world" after the country's government "made a blunder" by blaming Hezbollah for the 2012 bus bombing.
'Bulgaria security forces raid, expel Hamas delegation'
By JPOST.COM STAFF
02/15/2013 10:52
Raid on residences of visiting Hamas delegation allegedly prompted by Israeli, US, British pressure; Bulgarian government denies meeting with Hamas, says Palestinians were in Sofia on "private visitation."
Bulgarian security forces on Friday raided the temporary residences of a visiting Hamas delegation in Sofia, and then expelled the officials from the country, Palestinian news agency Ma'an reported.
The Hamas delegation arrived in Bulgaria on Wednesday to present the "Palestinian narrative and expose the false Israeli narrative on the Palestinians and Hamas." The visit was the first of its kind by Hamas officials to a member of the EU.
Ma'an quoted a statement released by Hamas' Change and Reform parliamentary list as saying the that the Bulgarian move was at least in part prompted by Israeli, US and British pressure.
On Thursday, the Bulgarian government flatly rejected reports that meetings between official representatives of the government and Hamas officials took place.
Read the rest here at the JPOST.