And may they eternally stay there.
H/T: BadNewsFromTheNetherlands
Rob Bertholee, head of the Dutch General Intelligence Service (AIVD) has said that tens of Dutch Muslim youths are fighting side by side with radical terrorist organizations in Syria against President Bashar Al Assad. According to the AIVD, the number of Dutch Muslims who participate in Jihad in the past months of 2012 exceeded that of the whole year of 2011. At the end of November, three people were arrested in Rotterdam, whom according to the prosecution, intended to go and fight in Syria.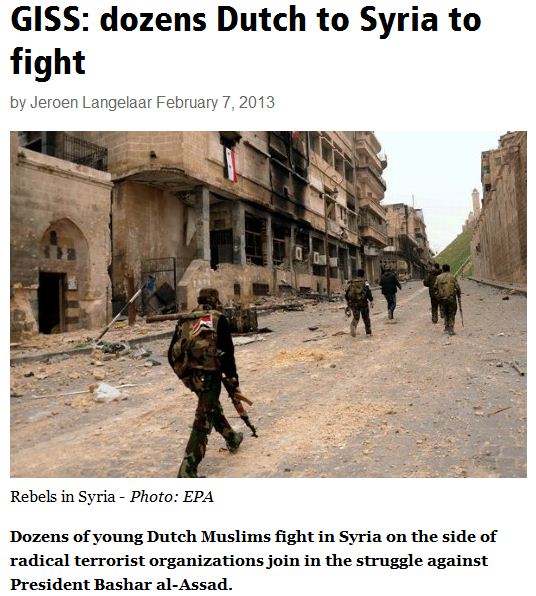 Elsevier.nl: So says the head of the intelligence service AIVD, Rob Bertholee, Thursday evening in Nieuwsuur .
"Syria is easy to get around, and it seems in part a legitimate aim. Even the West wondering how we can best support the opposition there . "
Propaganda
According to the AIVD exceeds the number of Dutch jihad goers in recent months the number for the year 2011.
In late November, three men arrested in Rotterdam, which the Prosecution said also were planning to go to Syria to fight . 
According Bertholee the internet plays a major role in current trends. "The Internet propaganda fighting in Syria hugely romanticized. I think a lot of fighters soon to discover that it's less romantic than proposed. At the same time they discover that there is no turning back, because they do not get that chance. "