Actually these 'residents' are the Hezbollah…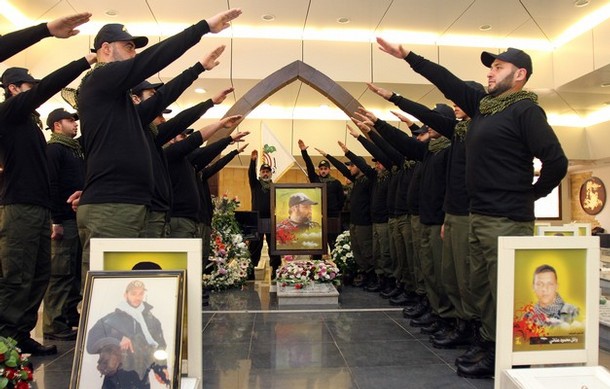 It's one of the reasons the EU is loathe to place the Heznazis on the terrorist watch list, they don't want to get their troops in trouble (they're busy being slapped around anyways) nor be forced to leave Lebanon.
H/T: Arnold Roth
10-Feb-13: Remember this when the fighting reignites in Southern Lebanon
Belgian de-miners in southern Lebanon and
government minister Pieter De Crem [Image Source]
We have posted several times in the last few days about the need for Hezbollah's European operations to be made illegal. The European Union has been bashful about stating openly why it continues to tolerate activities on its soil that provide invaluable support – financial, diplomatic, moral – for the terrorists who are the de factorulers of Lebanon.
One of the reasons they can do that is that reports like the one below just don't make it onto the morning news in France, Germany and the UK. That's a great shame.
From Lebanon's Daily Star, this report today:
S. Lebanon residents snatch memory card belonging to UNIFIL
February 09, 2013 06:23 PM | SIDON, Lebanon: Residents of south Lebanon briefly blocked a road in front of Belgian peacekeepers Saturday and stole a memory card belonging to one of the patrol's members, security sources told The Daily Star. After the Belgian unit, specialized in demining, took pictures of a mine field in the Marjayoun village of Mais al-Jabal and was on its way out of the area, residents in their car blocked the path of a vehicle belonging to the Belgium contingent of the United Nations Interim Forces in Lebanon, the sources said. The residents then stole a memory card of a camera that belonged to the peacekeepers. The sources said there was no physical confrontation between the residents and the peacekeepers. Items belonging to UNFIL have been taken off its members in the past. The head of the U.N. peacekeeping force in south Lebanon, Maj. Gen. Paulo Serra, has warned against intercepting UNIFIL patrols and confiscating their equipment, saying that such actions are not only illegal, they could escalate, endangering both soldiers and civilians. [more]
The wording of this report is exceedingly odd when you think for a moment. The 'good guys' in the Daily Star ought to be the peacekeepers from UNIFIL. They're there to… keep the peace. The bad guys are the 'residents' who blocked the road with their car, and then somehow managed to not only persuade the Belgian soldiers to stop and talk with them but also extracted "a memory card of a camera that belonged to the peacekeepers". This, in a area laced with lethal landmines.
Residents?!
This Ongoing War has much much more, click here.