It's called chest thumping intimidation.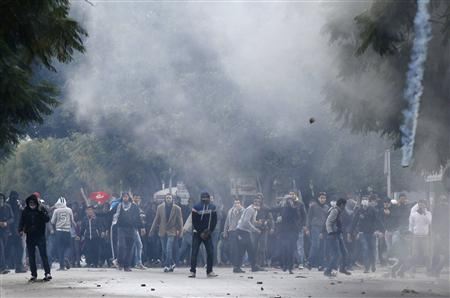 Tunisian Islamists rally to show "power of street"
TUNIS (Reuters) – Thousands of Islamists marched in Tunis on Saturday in a show of strength, a day after the funeral of an assassinated secular politician drew the biggest crowds seen on the streets since Tunisia's uprising two years ago.
About 6,000 supporters of the ruling Ennahda movement rallied to back their leader Rachid al-Ghannouchi, who was the target of angry slogans raised by mourners at Friday's mass funeral of Chokri Belaid, a rights lawyer and opposition leader.
"The people want Ennahda again," the Islamists chanted, waving Tunisian and party flags as they marched towards the Interior Ministry on Habib Bourguiba Avenue in the city centre.
The demonstration was dwarfed by the tens of thousands who had turned out in Tunis and other cities to honor Belaid and to protest against the Islamist-led government the day before, shouting slogans that included "We want a new revolution".
Belaid's killing by an unidentified gunman on Wednesday, Tunisia's first such political assassination in decades, has shaken a nation still seeking stability after the overthrow of veteran strongman Zine al-Abidine Ben Ali in January 2011.
The family of the slain politician has accused Ennahda of responsibility for his killing. The party denies any hand in it.