Democracy project in flames.
Daniel Pipes was right. The U.S. should have never tried to 'nation build' in Iraq after Operation Iraqi Freedom, instead, after hostilities had officially ended they should have withdrawn all troops to designated areas, and placed a more friendly-to-the-West leader in control, with the explicit promise to return if the political situation resorts to former ways.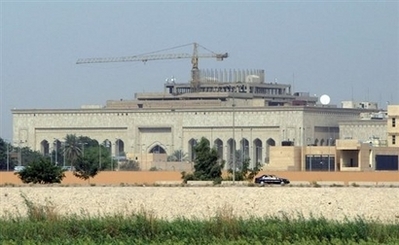 Report: Iraq PM 'Invites' Iran to Seize US Embassy in Baghdad
Iraq allegedly has agreed to allow 50,000 Iranian Basij militia to help suppress riots against the government and seize the US embassy.
AAFont Size
By Chana Ya'ar
First Publish: 2/10/2013, 9:14 AM
 Iraq allegedly has agreed to allow 50,000 Iranian Basij militia troops into the country to help suppress riotsagainst the government and seize Arab and other foreign embassies, including that of the United States. The two leaders allegedly agreed to allow the Basij forces to attack and occupy the foreign embassies considered hostile to Iran in Baghdad, and to detain their staffs.
Iraq's Prime Minister Nuri al-Maliki and Iranian military commander Qassaem Soleimani, head of Iran's Al Qods Force, allegedly shook hands on the plan over the weekend at a meeting in Baghdad.  Pledging 50,000 Basij military troops to help al-Maliki put down the nationwide riots against his government, Soleimani was quoted as saying "the Iraqi Front is the last front to defend the security of Iran."
The report, which appeared Saturday on the Voice of Iraq website and that of theNashwan News, apparently offered enough evidence to create concern among analysts in the United States. "Even if there is a slim chance that the report is true, it should be published immediately," commented U.S.-based Middle East strategy expert Mark Langfan.
U.S. embassies have become an increasingly popular target for disgruntled Islamists who wish to whip up popular support, attempt to terrorize Western leaderships or terrorize a local population into submission, such as last year's September 11, 2012 attack on the U.S. Consulate in Benghazi, Libya in which four American diplomats were killed — including U.S. Ambassador to Libya Christopher Stevens.
In 1979, Iranian radical Islamists seized the American Embassy in Tehran and took 52 hostages captive on November 4 to express their support of the Iranian Revolution. A U.S. attempt to rescue the hostages on April 24, 1980 ended in failure and the deaths of eight American soldiers, one Iranian civilian and the destruction of two U.S. aircraft. Three months later, Iraq invaded Iran, leading to negotiations between the U.S. and Iran for release of the hostages, brokered by Algeria. The hostages were not freed until January 1981.