Good riddance I say.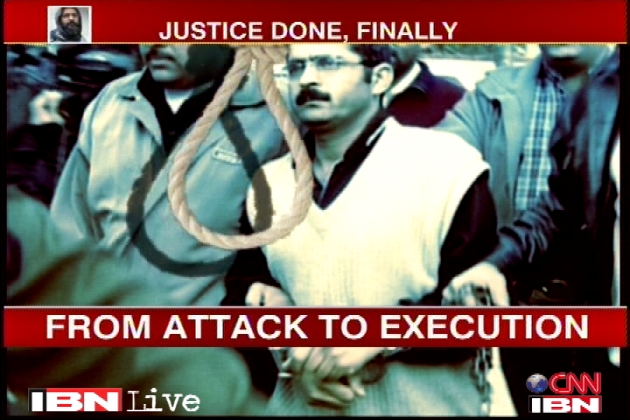 Protests erupt as India executes man for 2001 parliament attack
By Matthias Williams | al-Reuters – 18 hrs ago
NEW DELHI (Reuters) – India hanged a Kashmiri man on Saturday for an attack on the country's parliament in 2001, sparking clashes in Kashmir between protesters and police who wielded batons and fired teargas. Dozens of people were injured.
President Pranab Mukherjee rejected a mercy petition fromMohammad Afzal Guru and he was hanged at 8 a.m. (0230 GMT) in Tihar jail in the capital, New Delhi. Security forces anticipating unrest had imposed a curfew in parts of insurgency-torn Kashmir and ordered people off the streets.
Guru, from the Indian part of divided Kashmir, was convicted of helping organize arms for the gunmen who made the attack and a place for them to stay. He always maintained his innocence.
India blamed the attack on the parliament of the world's largest democracy on militants backed by Pakistan, targeting the prime minister, interior minister and legislators in one of the country's worst ever militant attacks.
Pakistan denied any involvement and condemned the attack but tension rose sharply and brought the nuclear-armed rivals dangerously close to their fourth war. Nearly a million soldiers were mobilized on both sides of the border and fears of war only dissipated months later, in June 2002.
The hanging was ordered less than three months after India executed the lone surviving gunman of a 2008 attack in the city of Mumbai in which 166 people were killed.