He's right. 
It's a long held axiom that, "governments makes peace deals with their enemies, not their former enemies." The whole "peace process" initiative has been a charade and a scam from the very beginning, on the Arabs' side. They have never wanted actual peace in the Western sense of the word.
It's tempting for many to still cling to the illusion, the thought of the actual reality is so terrifying, (perpetual war till one side wears the other down) that it drives many to plod on head first regardless of the many concrete examples of Arab intransigence and tactics over the years.
It's amazingly clear, but disheartening to learn, that they want nothing short of the entire area sitting under the Jewish state. Converting Israel back into a Muslim entity is the goal, how they achieve that goal is just a matter of tactics.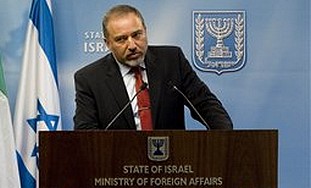 Israel's Lieberman says Palestinian peace accord impossible
JERUSALEM (al-Reuters) – Israel has no chance of signing a permanent peace accord with the Palestinians and should instead seek a long-term interim deal, the most powerful political partner of Prime Minister Benjamin Netanyahu said on Saturday.
The remarks by Avigdor Lieberman, an ultranationalist (TT: typical media activism, he's  patriotic, not a nazi) whose joint party list with Netanyahu narrowly won a January 22 election while centrist challengers made surprise gains, seemed designed to dampen expectations at home and abroad of fresh peacemaking.
A spring visit to Israel and the Palestinian territories by U.S. President Barack Obama, announced this week, has stirred speculation that foreign pressure for a diplomatic breakthrough could build – though Washington played down that possibility.
In a television interview, ex-foreign minister Lieberman linked the more than two-year-old impasse to pan-Arab political upheaval that has boosted Islamists hostile to the Jewish state.
These include Hamas, rivals of U.S.-backed Palestinian President Mahmoud Abbas, who control the Gaza Strip and spurn coexistence with Israel though they have mooted extended truces.
"Anyone who thinks that in the center of this socio-diplomatic ocean, this tsunami which is jarring the Arab world, it is possible to arrive at the magic solution of a comprehensive peace with the Palestinians does not understand," Lieberman told Israel's Channel Two.
"This is impossible. It is not possible to solve the conflict here. The conflict can be managed and it is important to manage the conflict … to negotiate on a long-term interim agreement."