Revealing.
And this is the guy that Obama, out of the hundreds of millions of U.S. citizens at his disposal, picked for his top choice of secretary of defense.
State donors include Saudi Arabia, Turkey, and a variety of other European and Middle Eastern governments. Other organizations have not yet provided donor information.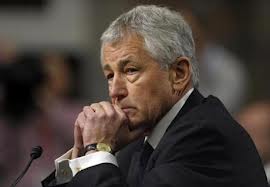 FRIDAY NEWS DUMP: PARTIAL HAGEL DONOR LIST INCLUDES SAUDIS, TURKEY
The Atlantic Council, chaired by former Sen. Chuck Hagel (R-NE), released a list late Friday evening of corporate donors as well as foreign governments that had funded it over the past five years.
The list did not shed light on individuals such as Saad Hariri, whose family has given generously to the Atlantic Council and who has supported the Hamas terror organization publicly, as well as offering financial support to Syrian rebels.
On Jan. 29, Senators on the Armed Services Committee requested information on donors to the Atlantic Council and several other organizations with which Hagel is affiliated, as well as additional information about past speeches he delivered and other compensation he received. Hagel failed to meet the committee's 5 p.m. deadline on Feb. 4 and wrote to the committee on Feb. 5 to say he would not comply.
On Feb. 7, the date when the committee had originally been expected to vote on Hagel's confirmation prior to postponement, Hagel finally wrote to the Atlantic Council to request additional information. In its response on Feb. 8, the organization indicated that it did not compensate Hagel for his services as chairman, that it did not release the names of individual donors, and that foreign contributions were vetted by an oversight committee.