Saudi Arabia, a place where one can still visit the seventh century and not be in a museum.
This is one murder case I want to see ending in the reprobate being executed by a rusty scimitar. Words fail over the loss of such an innocent human being.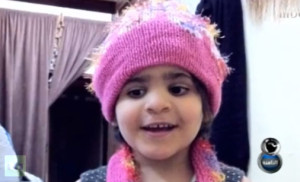 Saudi preacher gets fine and short jail term for raping and killing daughter
Image from facebook.com @We-are-supporting-Manal-Alsharif claims to show Fayhan Ghamdi
Public anger has gripped Saudi Arabia after a prominent preacher who raped and beat to death his 5-year-old daughter was sentenced to a few months in jail and a $50,000 fine – known as 'blood money' – to compensate the victim's relatives.
According to Islamic law, the 'blood money' can be paid in lieu of the death penalty. The preacher's fine was reportedly half the usual amount because the victim was a girl.
Saudi preacher Fayhan Ghamdi, a frequent guest on Muslim TV networks, confessed to using cables and a cane to inflict the injuries, AFP reported, quoting activists from the group 'Women to Drive.'
Ghamdi reportedly doubted that his daughter, Lama Ghamdi, was a virgin, and forced her to undergo a medical inspection.
In December 2011, Lama was admitted to hospital with multiple injuries, including a crushed skull, broken ribs and left arm, and extensive bruising and burns, according to the activist group. Hospital worker Randa Kaleeb said that the girl's back was broken, and that she had been raped "everywhere."
More here. Via TROP