I think that Adam ( in the below article) is missing the mark.
Yes the Left and its media are silent, but it's not due to traditional racism, there is a more lethal pathology at work here.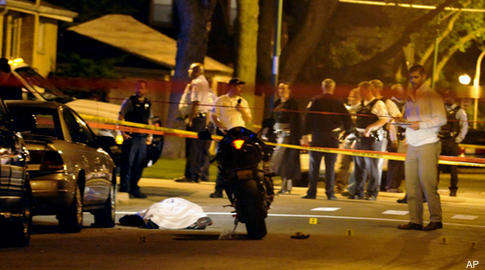 It must be noted here that Black America is in on the fix as well. Leftism/statism is about the control of the individual, not about his or her safety, that is secondary, if at all. Black statists believe in big government as much their White, Hispanic, Asian colleagues do, everything they do in politics, is for the benefit of the political ruling class and the ever expanding government bureaucracy.
Look at what they do at federal, state and local levels when it comes to any budget deficits, any or all solutions involve the slashing of spending for the military and law enforcement personnel, not for the pencil pushers and paper shufflers in the bureaucracy. The result is a less secure civil society.
So when it comes to Chicago's devastating murder rate, for the Left, it's never really about saving human life, it's more about controlling human life, that is why the Left is quiet.
ADAM CAROLLA SLAMS GUN CONTROL ADVOCATES FOR IGNORING CHICAGO'S SANDY HOOK-LEVEL GUN DEATHS
BREITBART:COM: Adam Carolla has a question for gun control advocates–why won't you raise your voice about the Sandy Hook-level of violence going on in Chicago, a city with significant gun laws already on the books?
Carolla broached the subject during his latest podcast episode, saying it's essentially racist to raise a ruckus when kids from an affluent community are gunned down but stay silent as inner-city youth continue to die from gun-related crimes.
You know, this whole Sandy Hook thing — in Chicago they basically have two Sandy Hooks a month worth of dead kids that we don't really give a shit about because it's inner-city kids and we don't count them. It happens — when it happens to the white kids or it happens in the theater, then it's a big deal. But it goes on every day in the inner city, and no one seems to care about it….

There's a racial component to it. We're all chicken-shit hypocrites, so no one wants to talk about that. But what's more racist — hey when the white kids are dead, we're all going to make a big fucking flap about guns? But when all the blacks and Mexicans are dead, 'Shh, don't say anything. We don't want to upset them.' Don't want to upset who, the dead people?"