In a normal civil society, the police would be handling the protection of its fellow citizens, but that isn't happening, so people themselves have to respond to the situation.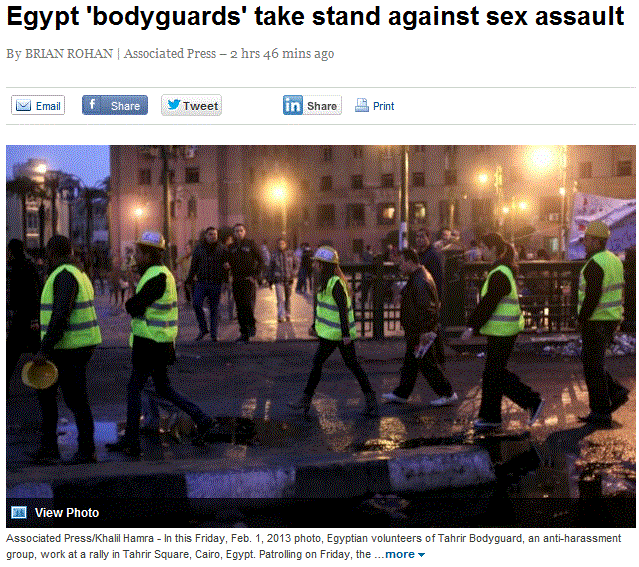 CAIRO (AP) — With bright neon vests and hardhats gleaming at dusk, a dozen Egyptian volunteers fanned out through Cairo's crowded Tahrir Square. Their project: end a surge in sexual assaults on women that activists say has become the darkest stain on the country's opposition street movement.
Patrolling on Friday, the men and women have joined Tahrir Bodyguard — one of several informal groups that have arisen to protect female demonstrators after women were stripped, groped and assaulted in a string of attacks this past year. Over the past week alone, while mass protests filled city squares around the country, over two dozen new sexual attacks have been reported — a wave activists call the worst in years.
Soraya Bahgat said she founded the group using social media after seeing television footage last November of a mob of men attacking a woman and tearing off her clothes. She had been on the way to a demonstration at Tahrir herself, but instead stayed in, gripped with fear.
"It was sickening. They were dragging her through the street," said the 29-year-old, who works as a human resources manager. "I couldn't imagine something so horrific, and something that fundamentally would keep women from exercising their right to assembly like anyone else. No one should be prevented from demonstrating."